Cyber Ninjas, UV lights and far-right funding: inside the strange Arizona 2020 election 'audit'
One of the first things you see when you step outside Arizona Veterans Memorial Coliseum, the ageing arena in Phoenix, is the Crazy Times Carnival, a temporary spectacle set up in the parking lot. In the evenings, just as the sun is setting, lights from the ferris wheel, the jingle of the carousel and shrieks of joy fill the massive desert sky.
Inside the coliseum – nicknamed the Madhouse on McDowell – there is another carnival of sorts happening. The arena floor is where the Arizona senate, controlled by Republicans, is performing its own audit of the 2020 election in Maricopa county, home of Phoenix and most of the state's registered voters. The effort, which comes after multiple audits affirming the results of the November election in the county in favor or Joe Biden, includes an examination of voting equipment, an authentication of ballot paper, and a hand recount of the nearly 2.1m ballots cast there. Republicans in the state legislature are simultaneously considering measures that would make it harder to vote in Arizona, which Biden carried by about 10,000 votes in November.
The review – unprecedented in American politics – may also be one of the clearest manifestations to date of Donald Trump's false claims of fraud and the conspiracy theories that spread after the election (the former president and allies have loudly cheered on the Arizona effort). Far-right conspiracy theorists appear to be connected to the effort and the firm hired to lead the charge, a Florida-based company called Cyber Ninjas, has little experience in elections. The firm's CEO has voiced support for the idea that the election was stolen from Trump.
Election experts are watching the unfolding effort with deep alarm, pointing out that officials are not using a reliable methodology – they hesitate to even label it an audit – and will produce a results that will give more fodder for conspiracy theorists. More troublingly, they worry the Arizona audit could be a model for Republicans to try elsewhere.
"There's not gonna be a valid result," said the Arizona secretary of state, Katie Hobbs, a Democrat who is the state's top election official. "They're writing the playbook here to do this around the country." Indeed, Trump allies are already pushing for a similar effort in a small town in New Hampshire. Marjorie Taylor Greene, the far-right congresswoman in Georgia, has called for a similar audit in her state.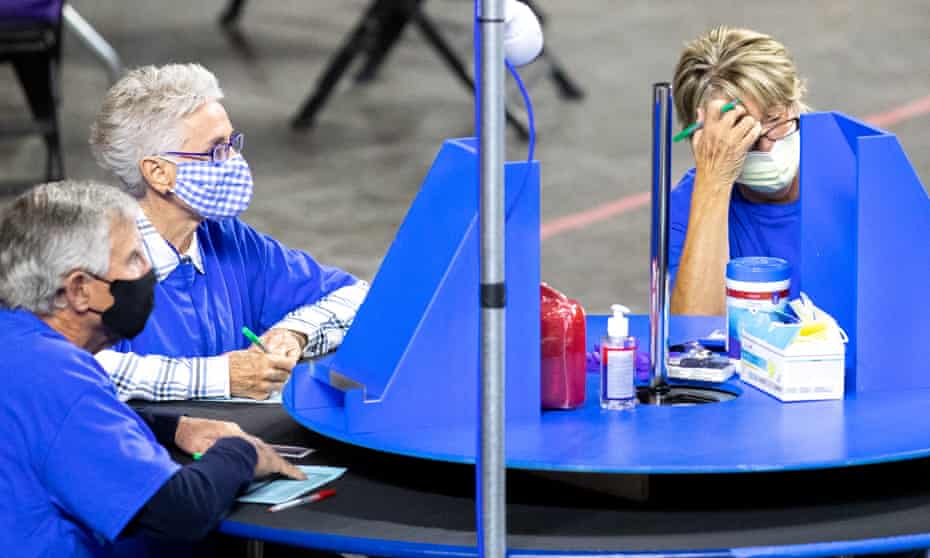 Trump and allies have cheered on the effort. Outside the arena, Kelly Johnson, a 61-year-old from California, was among a small group of five people sitting in a tent who supported the effort. Johnson, who said he was at the Capitol on 6 January, when rioters stormed the building, claimed Trump didn't fully have a chance to make his case in court after the election. Judges across the country, including several appointed by Trump, rejected several lawsuits to try and overturn the election results
Source: https://www.theguardian.com/us-news/2021/may/14/arizona-election-audit-recount-ballots-maricopa-county