'Pervasive and relentless' racism on the rise in Europe, survey finds
Racism is "pervasive and relentless" and on the rise in Europe, with nearly half of black people in member states surveyed by the EU reporting discrimination, from the verbal abuse of their children to being blocked by landlords from renting homes.
In every walk of life, from schools to the job market, housing and health, a survey by the EU's rights agency of people of African descent found high levels of discrimination, with some of the worst results recorded in Austria and Germany, where far-right parties have been on the rise.
The survey of 6,752 people of African descent in 13 countries – Austria, Belgium, Denmark, Finland, France, Germany, Ireland, Italy, Luxembourg, Poland, Portugal, Spain and Sweden – found 45% had experienced racial discrimination, an increase of six percentage points from 39% in 2016
In Austria and Germany, three in four of those questioned (72% and 76%) said they had felt discriminated against in the last five years, up from a half (51% and 52%) when the same question was asked in 2016.
The anti-immigration Alternative für Deutschland became the third-largest party Germany, as well as the largest opposition, after the federal elections of 2017. They did less well in 2021 but their influence is growing.
An AfD politician was elected to the post of district administrator, the equivalent of a mayor, in Germany for the first time in June, with more recent electoral triumphs in the west of the country leading it to describe itself as a "major all-German party".
In Austria, the Freedom party (FPÖ), founded in 1956 and first led by a former Nazi functionary and SS officer, is leading in the polls ahead of a general election next year, which it is expected to win.
Michael O'Flaherty, director at the EU's fundamental rights agency, which advises the European Commission on policy, said the results in the report, Being Black in the EU, were "shameful".
He called for all EU countries to gather equality data, including on ethnic or racial origin, in an attempt to further grip the problem. Owing to sensitivities arising from the second world war, Germany, unlike the UK, does not collect census data on racial or ethnic diversity.
O'Flaherty said: "It is shocking to see no improvement since our last survey in 2016. Instead, people of African descent face ever more discrimination just because of the colour of their skin
"Racism and discrimination should have no place in our societies. The EU and its member states should use these findings to better target their efforts and ensure people of African descent, too, can enjoy their rights freely without racism and discrimination," he said.
The racism uncovered by the agency was said to affect people's daily lives. One in four (23%) respondents said that a private property owner had prevented them from renting a home because of their racial or ethnic origin.
A quarter (23%) of black people indicated that someone made offensive or threatening comments to their child in person because of their ethnic or immigrant background. Almost two out of five parents in Ireland (39%), Germany and Finland (both 38%) and Austria (37%) reported such experiences.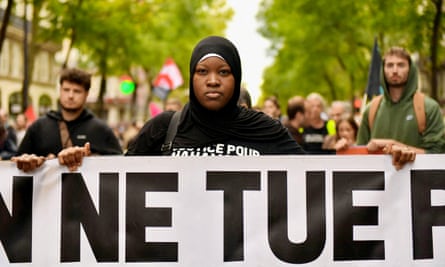 Across the countries surveyed, young people of African descent were found to be three times more likely to leave school early, compared with the general population.
One in four (26%) of respondents said they had been stopped by the police in the five years before the survey. Among those, about half (48%) characterised the most recent stop as racial profiling.
The average proportion of black people who said they believed they had been a victim of ethnic profiling by the police had increased across the countries surveyed from 41% in 2016 to 48% in 2022, when the latest survey was undertaken.
On average, the employment rate among people of African descent aged 20 to 64 years (71%) was found to be similar to that of the general population (73%) of the same age range. But almost a third (32%) of respondents were working in "elementary occupations", compared with an average of 8% for the general population across all 27 EU member states.
Almost a third (30%) of employed people of African descent have a temporary contract. This proportion was said to be three times that of the general population across the EU (11%). Black people were also found to be disproportionately over-qualified for the jobs in which they were working. A third (35%) of black people with university-level qualifications were found to be in low or medium skilled occupations compared with 21% for the general population.
Respondents to the EU survey were either born in countries of sub-Saharan Africa or were descendants of immigrants with at least one parent born in sub-Saharan Africa.
Source: https://www.theguardian.com/world/2023/oct/25/pervasive-and-relentless-racism-on-the-rise-in-europe-survey-finds