Jews, Palestinians and Muslims in the US say they're experiencing growing fear about rising bigotry and hatred
There is a palpable fear and tension in communities across the United States already scarred by the violent incidents stemming from the early days of the Israel and Hamas war, with some equating the bigotry and hatred being experienced by Jews, Palestinians, Muslims and other groups across the country to that of a post-9/11 world.
There is a palpable fear and tension in communities across the United States already scarred by the violent incidents stemming from the early days of the Israel and Hamas war, with some equating the bigotry and hatred being experienced by Jews, Palestinians, Muslims and other groups across the country to that of a post-9/11 world.
"Every one of us feels unsafe," said Zein Rimawi, founder and member of the Islamic Society of Bay Ridge in south Brooklyn, New York, where three young men were attacked by a small pro-Israel cadre only days after the war started. "It's worse than after 9/11."
The neighborhood activist told CNN he lived in Bay Ridge during the 2001 terror attacks and recalled that, although he was scared back then, he felt protected by political leaders because they defended American Muslims from discrimination.
Israel's war on Hamas followed the militant group's surprise attack on Israel on October 7, when terrorists brutally killed 1,400 people in Israel, including civilians and military personnel, and abducted over 200 others, according to the Israel Defense Forces.
What's happening in the Middle East has had a ripple effect on major cities like New York: Advocates and community leaders say there have been a slew of hate-inspired incidents targeting Jews, Palestinians, Muslims and other groups in the wake of the initial attacks. In one case, a victim was allegedly targeted just because they were perceived to be a member of one of these groups.
Opinion: Being a Muslim American right now is like living on borrowed time
New York City is home to the largest Jewish population outside of Israel and has one of the country's largest Muslim populations. In 2001, following the 9/11 terror attacks, anti-Muslim motivated crimes became the second highest reported among religious-bias incidents, according to FBI data. Anti-Jewish religion incidents were the highest.
A recent joint bulletin from the FBI, the Department of Homeland Security and the National Counterterrorism Center noted "the FBI has seen an increase in reports of threats against faith communities, particularly Jewish and Muslim communities."
The Anti-Defamation League recorded more than 1,200 antisemitic incidents in the US through May 2023 – after reaching a record high in 2022 – and said it's already seeing an uptick in antisemitic images and rhetoric in the wake of Hamas' attack in Israel.
Nationally, the ADL has seen a 54% increase over the same time last year, according to Scott Richman, the ADL's regional director for New York and New Jersey. From October 7 to October 19, there have been 168 antisemitic incidents across the country, he said.
Reported numbers only tell part of the story
On October 11 in Brooklyn's Bay Ridge neighborhood, which is home to a large Palestinian community, a group of men – some of whom were waving an Israeli flag – attacked three men on the street after asking them if they were Palestinian, yelling, "F**k Palestine, F**k Islam," according to a criminal complaint.
One of the victims required medical attention after the attack, the complaint said. Two of the attackers have been charged with assault and menacing as a hate crime; four others remain at large, according to the complaint.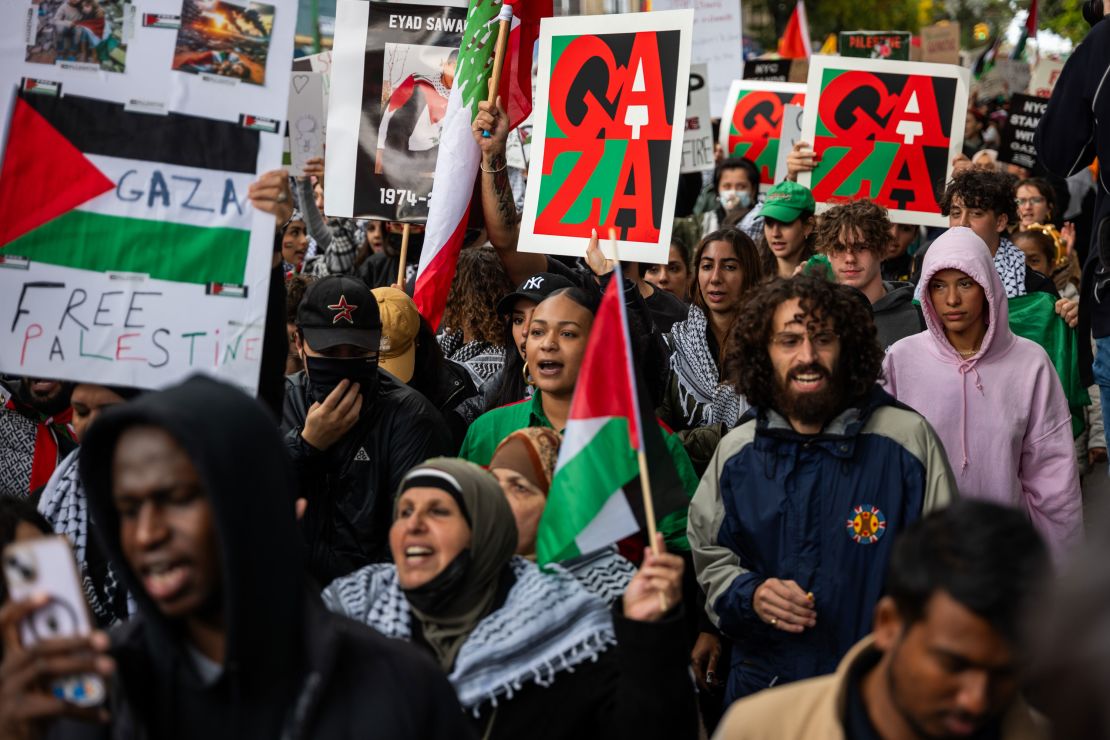 That same day, a 19-year-old attacked a 24-year-old Columbia University student who was putting up posters with information about Israeli casualties, according to the criminal complaint and local news reporting. The 19-year-old ripped down the posters and shouted profanities at the victim before she struck them with a broomstick. She was charged with assault as a hate crime, and other charges, the complaint states.
On October 14, a 29-year-old woman was punched in the face in the Grand Central subway station in Midtown Manhattan. The victim asked her attacker why he hit her, and he responded, because "you (are) Jewish," according to police. A 28-year-old man was arrested this week and charged with a hate crime and aggravated assault.
Outside of New York, near Chicago, a 6-year-old boy was stabbed to death and his mother brutally injured in Plainfield Township, Illinois, after being "targeted by the suspect due to them being Muslim and the ongoing Middle Eastern conflict involving Hamas and the Israelis," the sheriff's office said. The 71-year-old suspect, who was their landlord, has been charged with murder and hate crimes, among other charges.
But while the numbers of reported incidents tick up, advocates say there are scores of others that never reach law enforcement.
"Who are you going to tell when somebody comes up to you and screams, 'Free Palestine,' at you?" said Richman, of the ADL. "Or there's a swastika that's been painted at your school? All kinds of incidents have been reported to us."
Richman said his office is struggling to keep up with the "huge" uptick.
And he says he believes the number of incidents, both locally and nationally, will increase if Israeli ground troops enter Gaza.
"We know from experience that when there is a flare up in the Israel-Palestine, Israel-Hamas conflict, we see Jews are targeted in this country, in other countries, essentially being blamed for the actions of the Israeli government or the Israeli military," Richman said. "Nobody knows where anybody stands but people make assumptions because they are Jewish and then want to take out their anger on the Jewish community."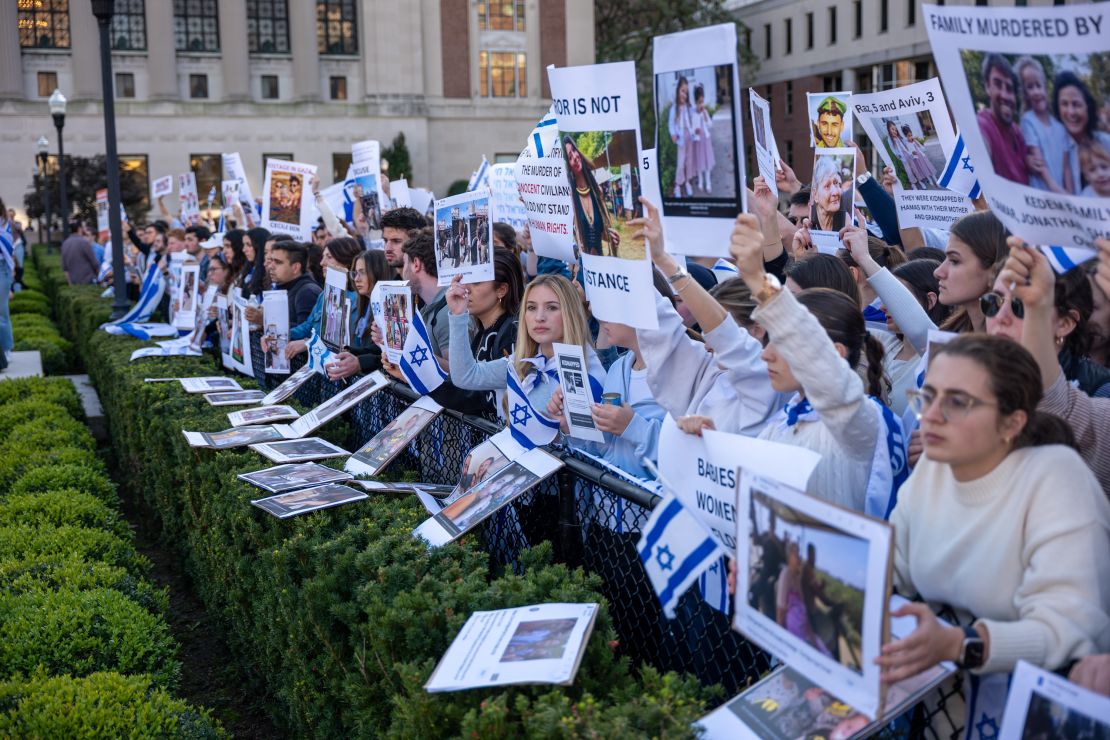 Ahmed Rehab, executive director of the Council on American-Islamic Relations' Chicago office, said his office typically sees four to six complaints a week from people who say they've been victimized or bullied. Since the start of the war just over two weeks ago, they have received 86 complaints.
"My phone has been ringing off the hook," said Rehab, who added he believes the current situation is much worse now than it was after 9/11. Not only are people scared, Rehab says, but now, no one seems to want to hear from Muslim Americans.
"Palestinians are essentially dehumanized and there has been a conclusion that they deserve what's coming to them because of what's happened in Israel," said Rehab. "There isn't much appetite for the nuance that's needed to have the discussion of the value of human life and of a civilian life."
Rehab – who worked at a large accounting firm in Chicago when 9/11 happened and remembers his family and friends becoming victims of hate crimes in the aftermath of the attacks – said bias incident victims often don't report the crime because of a combination of reasons, including a sense of futility.
"There's a lot of 'toughen up,' especially in our culture," Rehab said. "There's also a sense of, 'I don't want to appear weak' or a sense of hopelessness that nothing will be done or can be done about it. Or there's a sense of bureaucracy. 'We've done this before,' and it just fizzles into bureaucracy."
Others caught in the fray
The rising tensions of recent weeks have reminded other groups, too, of the atmosphere that followed 9/11.
Last week, a 19-year-old Sikh man who was wearing a mask attached to his turban was riding a bus when an assailant shouted, "We don't wear that in this country and take that mask off," according to New York police. The assailant then punched the teen several times and even tried to remove his turban, police said.
"He just feels very unsafe. He's constantly looking behind his back," said Japneet Singh, a community activist who spoke with the victim. The teen had arrived in the US 10 months ago in search of what he called the American dream, Singh said. Now, he's "just, overall, disappointed."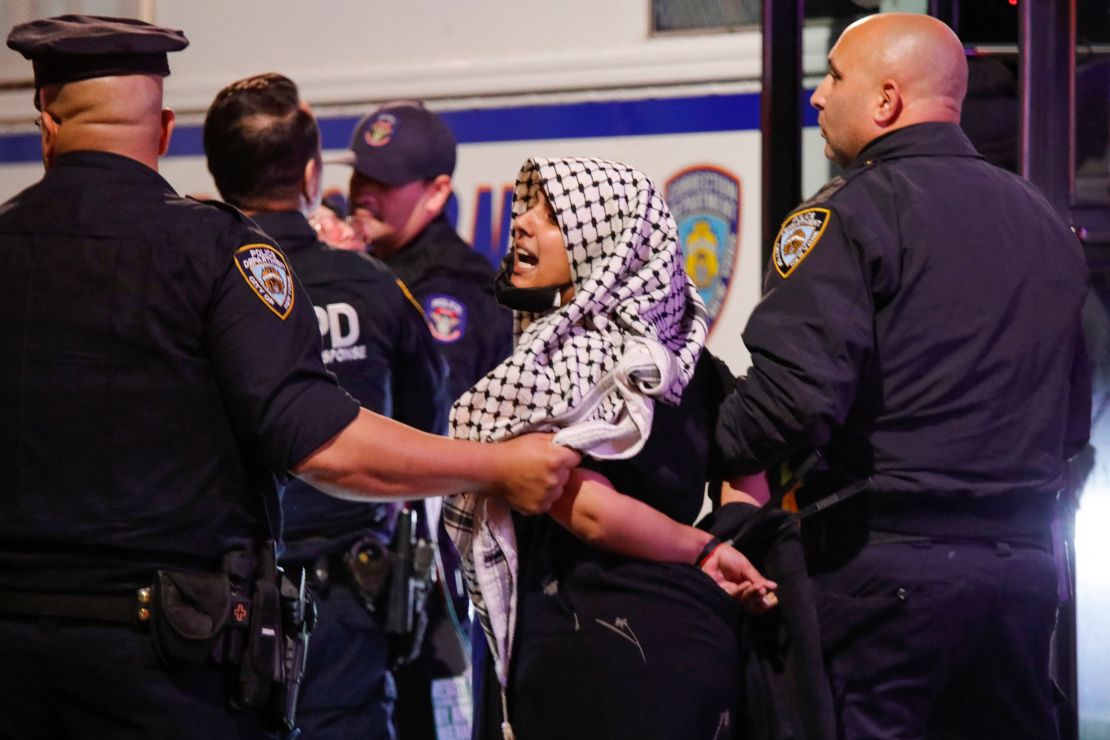 Sikh men grow long beards and wear turbans as a commitment to their faith, and many Americans mistake them for Muslims. In the immediate aftermath of 9/11, the Sikh Coalition advocacy group documented more than 300 cases of violence and discrimination.
Singh has had his own experiences with discrimination. A week ago, he was leaving Gracie Mansion after a meeting with Mayor Eric Adams when a group of teens saw him wearing his turban and shouted, "Hamas."
"My biggest concern was the hate part of it and how it was going to impact us here at home. Literally within a week – less than a week – we started seeing all the chaos," Singh said. "It's been a repeat of post 9/11, the sentiments of Islamophobia and rhetoric."
There have been 51 hate crime incidents in New York since October 9, NYPD officials said at a Tuesday news conference. Most occurred during chance encounters, according to Chief of Detectives Joe Kenny, who added that hate crime numbers for the year had been down 22%, but after the war, are only down 13%.
"Hate crime is still down but since the incident in Gaza, there has been an uptick," Kenny said.
When asked Monday about concerns about a potential rise in antisemitism due to the current conflict, White House Press Secretary Karine Jean-Pierre told CNN, "We have not seen any credible threats."
"But, look, Muslim and those perceived to be Muslim have endured a disproportionate number of hate-fueled attacks," Jean-Pierre continued. "And certainly, President Biden understands that many of our Muslim, Arab Americans and Palestinian American loved ones and neighbors are worried about the hate being directed at their communities."
Source: https://edition.cnn.com/2023/10/25/us/israel-hamas-war-hate-crimes-us/index.html