Haitians Stuck in Mexico's 'Open Air Prison' City Claim Racism as Asylum Cases Are Denied
The city of Tapachula, Mexico, which sits near the border of Guatemala and about 17 miles from the Pacific Ocean, has been called an "open air prison."Despite its warm climate, lush greenery, and historic buildings, for many in the city, it's the last place they'd rather be.
Tapachula stands as one of the most prominent crossing points for individuals hoping to migrate from Central and South America to Mexico and the United States. Because Mexico's asylum system requires that cases be processed before individuals can leave their point of entry, migrants have been confined to Tapachula and some have been waiting in the city for great lengths of time.
Mexico's Commission for Refugee Assistance has seen a backlog in applications as the country struggles to handle a wave of migration that has seen asylum requests jump to a total of over 123,000 in 2021 as opposed to the over 41,000 posted the year prior.
Some migrants have been left waiting in the city for up to 18 months, Julio Rank Wright, deputy regional director for Latin America at the International Rescue Committee (IRC), told Newsweek. Rank Wright has been to the city and heard the stories of a number of immigrants, activists and Refugee Assistance employees.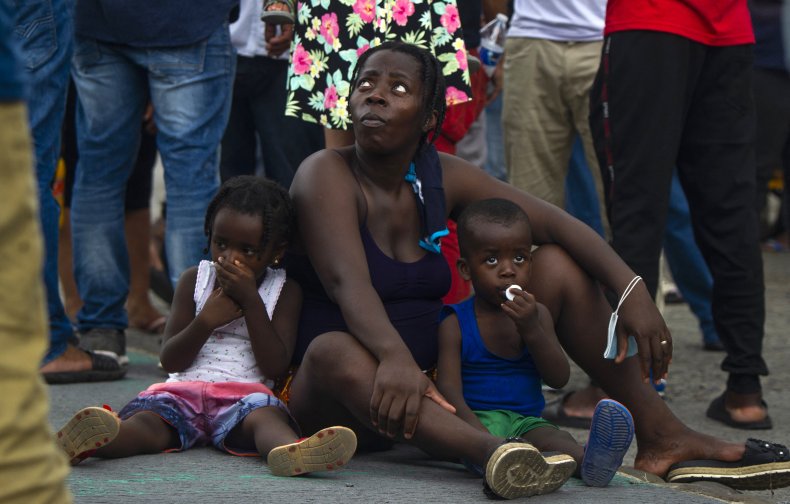 "A city, as large as it can, be like Tapachula, only has a limited amount of economic activity and economic opportunities that it can offer," he said. "A process that maybe would have taken three or six months is now taking over a year or 18 months, and that's where you see that frustration build."
He said that these frustrations have led migrants to form caravans of sometimes over 2,000 that move with the intent purpose of overwhelming Mexican authorities so that migrants can escape the city. As of late, Tapachula has seen a continued wave of Haitian migrants whose frustrations have been mounting.
Last Thursday, the Tapachula Haitian Refugees Association held a conference where they decried the "obstacles in achieving refugee status, legalization, and human rights violations" occurring in the city, The Haitian Times reported. That same day, Amnesty International published a report based on over 60 interviews with Haitian migrants who told the agency that they faced anti-Black racism during their journeys.
Amnesty International reported that immigration officials have pushed Haitian migrants back into Guatemala, often at night, without conducting assessments of their asylum claims—a violation of the United Nations Refugee Convention rules.
The agency cited data from the Commission for Refugee Assistance reporting that as of November, some 47,000 Haitians have filed asylum claims in Mexico. However, just 37 percent of them received refugee status. This stands in contrast to the success rate of 97 percent experienced by Venezuelans and the 84 percent rate experienced by Hondurans.
"Traditionally, (migrants in the city) used to be mostly Central Americans. Now, it's mainly Haitians and that's created a different dynamic, and with migrants in general, some areas of the city can be quite tense because of xenophobia," Rank Wright told Newsweek. "I think the caravans are just a symptom of what's been happening."
Source: https://www.newsweek.com/haitians-stuck-mexicos-open-air-prison-city-claim-racism-asylum-cases-are-denied-1662251