China exodus
China exodus
The number of people from China seeking asylum worldwide has risen sharply in the past decade, according to the U.N.
Hong Kong and mainland China residents are part of an exodus. Some want to escape persecution, while others seek new opportunities for their families in other countries. Their destinations vary, with some hopping to Taiwan and others journeying as far away as Ecuador.
About 89,200 people, more than 1% of Hong Kong's population — left Hong Kong between mid-2020 and mid-2021, according to its Census and Statistics Department data.
"Hong Kong's living environment seems to be deteriorating, so I am looking for a better place where I can live a happier life," resident Edwin Lai told VOA at an immigration fair in Hong Kong.
A new national security law went into effect in Hong Kong in mid-2020 after months of anti-government protests.
"There are a lot of restraints implemented in many areas, from freedom of speech to education. There are also many restrictions and many new laws and rules introduced," Lai said.
Taiwan
Hong Kongers are increasingly heading to Taiwan, according to information from Taiwan's National Immigration Agency.
"I have to leave Hong Kong in order to have an independent voice," visual artist Kacey Wong told VOA. "Nobody wants to live in a city that constantly provides fear."
More than 10,000 people moved from Hong Kong to Taiwan in 2020, the most on record and nearly double the number from 2019. Such relocations continued in 2021, with more than 5,000 in the first seven months of the year, according to Taiwan's National Immigration Agency.
Britain
An even more popular relocation destination is Britain. In the first half of 2021, more than 65,000 Hong Kongers applied to move there.
Last year, Britain launched a new visa program — the British National (Overseas) visa (BNO visa) — that Hong Kong citizens and their dependents who hold BNO passports can use. An estimated 5.4 million people qualify for the program.
Mike and Ivy Lam applied for BNO visas and moved with their 11-year-old son from Hong Kong to Britain in December 2020.
"We have to think about, 'Is Hong Kong still safe to stay? And is it a good place for children to have a bright future?'" Mike Lam told VOA. "The conditions in Hong Kong (are) becoming worse and worse very rapidly. So, it pushed us to (make) the decision so fast."
The number of people from China seeking asylum worldwide has risen sharply during the past decade, from 7,732 in 2010 to 108,071 in 2020, according to data from the Office of the United Nations High Commissioner for Refugees.
Number of asylum-seekers from China 2010 - 2020
2010201520207,73211,37515,36224,79947,33557,69372,16589,50894,351104,259108,071
Source: UNHCR
Threatening from afar
Many people who flee are concerned that China will attempt to persecute them after they leave the country. These include the Uyghurs, a mostly Muslim Turkic group that lives in China's Xinjiang region.
Turkey is seen as a sanctuary for Uyghur refugees fleeing Chinese detention centers which Human Rights Watch calls "crimes against humanity." About 50,000 Uyghurs reside in the western Asia country.
China denies abusing the Uyghurs. In August 2020, Chinese state media CGTN described the facilities as "vocational education and training centers, which were set up to redirect people away from religious extremism."
As Turkey and China strengthen ties over economic and security matters, Uyghur families in Turkey and their lawyers say that the community has faced more threats and that they fear Turkey is being pressured to prosecute and deport Uyghur activists.
Enver Turdi reported news in Xinjiang and continues to speak out against human rights abuses in China, even after a year of detention in Turkey. (VOA News)
Enver Turdi, a Uyghur, says he is facing ongoing scrutiny in Turkey, where he spent a year in detention. In Xinjiang, he reported news of rights abuses in China, and he continues to do so from Turkey.
"Turkey holds and investigates people for months or a year and finds nothing. Once they have the correct information, they let people go. For me, it's been three years, and they are still investigating. China cannot provide evidence," Turdi told VOA.
Since 2017, the Chinese government has detained at least 1 million mostly Uyghur Muslims from the Xinjiang region, according to Amnesty International.
The United States and human rights groups say China's treatment of the Uyghurs amounts to genocide.
Bugra Arkin, an ethnic Uyghur Muslim from Xinjiang, was granted asylum in the United States in 2018, the same year he says authorities took people close to him to a detention center.
"In 2018, my father and my uncle, my cousins, some of my friends, they disappeared, and then I heard they were taken to the concentration camp," Arkin told VOA.
He said that this year, someone speaking Chinese made two frightening phone calls to him and his wife.
"She was threatening me, even death-threatening my 2-year-old daughter," Arkin said. "She said, 'We are closely watching you. We will kill you. You are going to die.'"
Fatima Abdulghafur, who was born in Xinjiang, told VOA she moved from China in search of freedom. Abdulghafur, who is pursuing a doctorate in geophysics, lived in the United States and then went to Australia, got married and stayed in the country that is home to more than 650,000 immigrants who were born in China.
Abdulghafur said her brother was among the Uyghurs detained in camps, as had been her father, who died at one of the sites.
"When I left China, it's definitely because I saw I could be forever a slave," she said.
Number of asylum-seekers from China by country in 2020
USA75,843 Australia16,811Brazil5,143UK2,040Canada1,945South Korea1,754Spain980Germany544Greece418Italy357
Source: UNHCR
Latin America
In Ecuador, Milly, a former English teacher from China who asked to be identified only by her first name, told VOA that 80% to 90% of people who leave China are driven by "a sense of fear living in that society." Because many immigrants still have family in China, that fear lingers even after people leave the country, she said.
Milly, who now works with immigrants from China in Ecuador, said economic and political uncertainty are also major reasons that people want to leave China.
"Many of my clients are afraid their renminbi (Chinese currency) will turn into trash, so they exchange all the RMB for dollars and stash them at home," she told VOA. "Some are afraid China is going back to the planned economy. Especially for the generation who have experienced those dark days, they are afraid their property will be confiscated."
Canada
Hua Yong, a Beijing artist who said his videos of people being evicted documented the suffering of some of the poorest Chinese citizens, is among those seeking asylum in Canada. He said because of his art, he was arrested and detained multiple times while in China. Chinese authorities also put him in a 15-month "reeducation through labor" program.
"Because of my works of art, I was put in jail all these years and persecuted by the government, so I had no choice but to leave my homeland," Hua told VOA.
Another burgeoning destination is Canada's Prince Edward Island. The country's smallest province has seen the largest percentage population increase this year. In part because of a labor shortage, the island in eastern Canada has tried to attract immigrants, and those from China made up 4% of the immigrants who worked or arrived to work there in 2020 and 2021.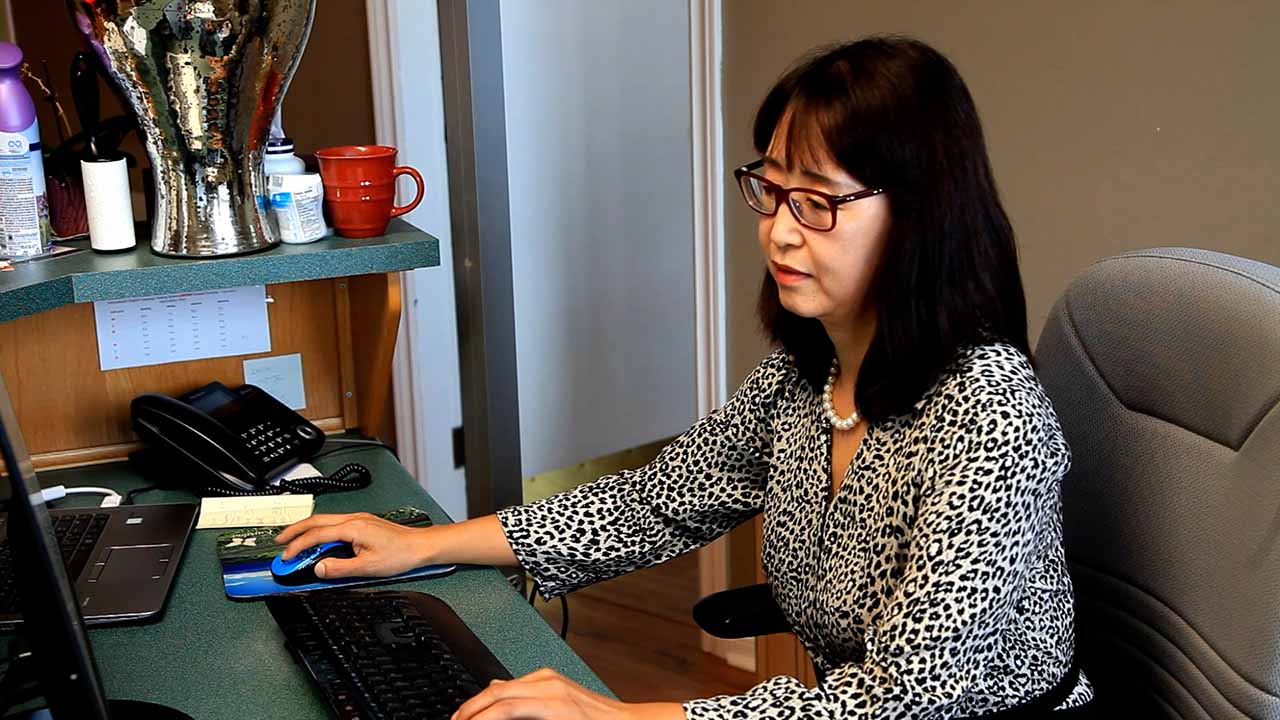 Emily Pei moved to Canada 12 years ago. (VOA News)
Emily Pei married a Canadian and moved to the country 12 years ago, and now she helps immigrants from China and elsewhere who want to live and work on Prince Edward Island. She told VOA that many of the immigrants she knows are motivated to make the move for their children's education.
Jeff Young, director of Prince Edward Island's immigration office, told VOA that Chinese immigrants find the area enticing and are often motivated to move there because of their children.
"I think they see PEI as a safe place. In some ways, they're looking for that quieter way of life. Simple things like 'fresh air.' We hear that a lot from that community," he said.
Pei said the area has changed in positive ways for the Chinese community since she first moved to Prince Edward Island.
"Compared to 10 years ago, it's much better now, with Chinese supermarkets, you know. Before we had only one or two, but now, maybe five or six. So, the Chinese community is growing."