Maoists drop letter bomb to lure Maratha youths
Cops confirm the leaflet is genuine and is issued from Gadchiroli dist; Maratha leaders though feel that violence is not the way out to demand reservation for the community.
Representatives of many Maratha outfits who are struggling for reservation on several forums, including judiciary to democratic protests, often come with a warning saying the Maratha quota stir might turn into a '
Naxalite movement
' if the government fails to address their issues. But, in reality, despite the outrage, they never adopted any undemocratic route. However, a
letter bomb
by
Communist Party of India
's (Maoist) Maharashtra state committee on Sunday created a huge sensation and alerted all the law and order authorities in the state.
The party secretary, in his letter, reportedly appealed to Maratha youths to join the Naxalite movement in order to resolve their longpending issues.
The agencies investigating the letter - issued from Gadchiroli district - confirmed that it's not a fake one and meant to create unrest among the community and the state.
The police also started an investigation of the motive and source of the letter, which was sent in the form of leaflets.
The letter, while blaming the system and the handful capitalists within the community, appeals to youths to join the CPI (Maoist) movement to achieve their goal.
The letter, sent to various government offices, says, "The government belongs to Ambanis and Adanis, therefore there is no scope to get reservation. Only option remaining is 'change in the system'," the letter says.
The letter, signed by Sahyadri, the secretary of CPI (Maoist), also tries to lure the youths by giving the example of great Maratha warrior king Chhatrapati Shivaji who fought for his Swarajya, own kingdom. It appeals to youth to be real soldiers of the great warrior who used guerrilla war techniques to fulfil their aims. "The poor and deprived from other communities and CPI (Maoist) are with them in this battle. The strength of the community needs to be diverted towards revolution. We are waiting for you. Let's join our hands," says the letter.
The letter highlights the reason for the deprived status of the community.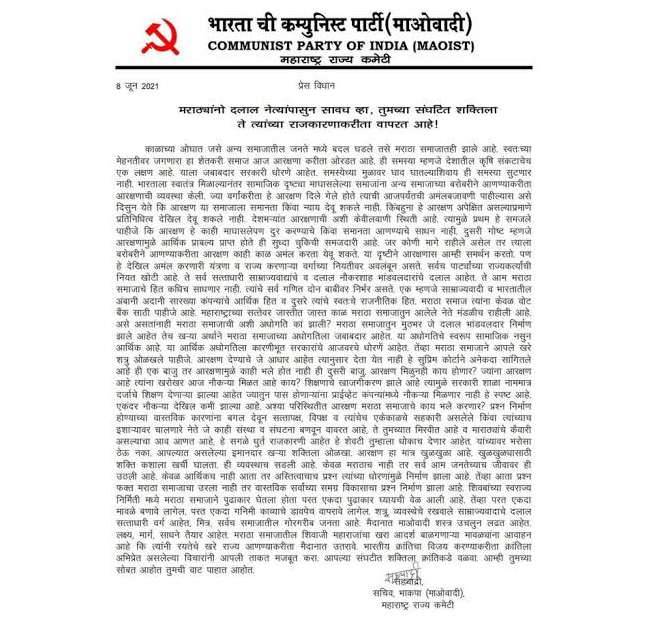 "The handful of middlemen within the community are extorting the community. This downfall of the community is more economic than social. The government is responsible for this huge downfall of the community," it adds.
Reacting to this letter,
Maratha Kranti Morcha
(MKM) leaders have expressed different views. Vinod Patil, community leader who is also known for petitions in high courts and
Supreme Court
for the quota, said, "The community believes in democratic system. There are ways to deal with our issues. The community will never go on the path suggested by Naxals."
Member of Parliament (MP) and community leader Sambhajiraje Chhatrapati said, "Naxal organisations are trying to engage with Marathas who have felt disenfranchised by the system, by invoking the name
Chhatrapati Shivaji Maharaj
. Instead of joining them we will appeal to them to join us. We await them in the mainstream of Indian politics. India has embraced democracy, everyone should participate. I agree that the Maratha community has faced injustice in independent India but we're countering that through this democratic system and by following democratic means. Revolution is definitely the need of the hour, but it must follow a legislative path."
Talking to Mirror, Sandip Patil, deputy inspector general of police, Gadchiroli, confirmed that the letter is genuine and meant to create unrest within the community and the state. Patil said, "Maoist groups, known to promote the urban Naxal movement, are trying to lure different sections by raising the issues for which the community is emotionally attached. On one hand, the Naxals appeal to the community to join them, but they won't believe in democratic system and Indian constitution. Their intent is to take advantage of the ongoing unrest within the community. We are probing the source of the letter and motive."
Source: https://punemirror.indiatimes.com/pune/others/maoists-drop-letter-bomb-to-lure-maratha-youths/articleshow/83499462.cms