Assassination Attempt on Mohamed Nasheed – Can India and the World ignore the rise of Militant Islam in the Maldives?
On 6 May 2021, an assassination attempt was made against Maldivian speaker of the People's Majlis and former president Mohamed Nasheed near his home in Malé.
A homemade explosive device planted on a parked motorcycle exploded injuring Nasheed and four others. The explosion occurred while Nasheed was getting into his car. He sustained injuries and is currently undergoing surgery. Also injured were two of Nasheed's bodyguards and two bystanders, one of whom was a British national.
Maldives authorities allege it to be a terrorist attack by religious 'extremists'. Three suspects have been arrested. Maldives Police Commissioner Mohamed Hameed said at a news conference "dangerous attempt on the life of former president Nasheed, all evidence indicates that this was a deliberate act of terror."
Why target Nasheed?
53-year-old Nasheed considered a pioneer of democracy in the Maldives, is also a climate activist. Nasheed ended decades of one-party rule in the Maldives and became its first democratically elected president in 2008, only to be toppled in a coup in 2012. Nasheed is presently the president of the ruling Maldivian Democratic Party and the current parliament speaker.
Nasheed has also been an outspoken critic of religious extremism in the country which mainly consists of Sunni Muslims. Preaching and practicing other faiths are illegal in the Maldives. Religious hard-liners have criticized him for his liberal policies and closeness to the West.
Current Maldivian president Ibrahim Mohamed Solih described the explosion as "an attack on Maldives' democracy and economy". He has promised a "swift and thorough" investigation, warning that the perpetrators will "face the full force of the law."
Nasheed's condition had improved so that he could be taken off life support, although he remained in intensive care. On 13 May, Nasheed was flown to Germany for further medical treatment after being seriously injured alongside three other people.
Rise of Militant Islam in the Maldives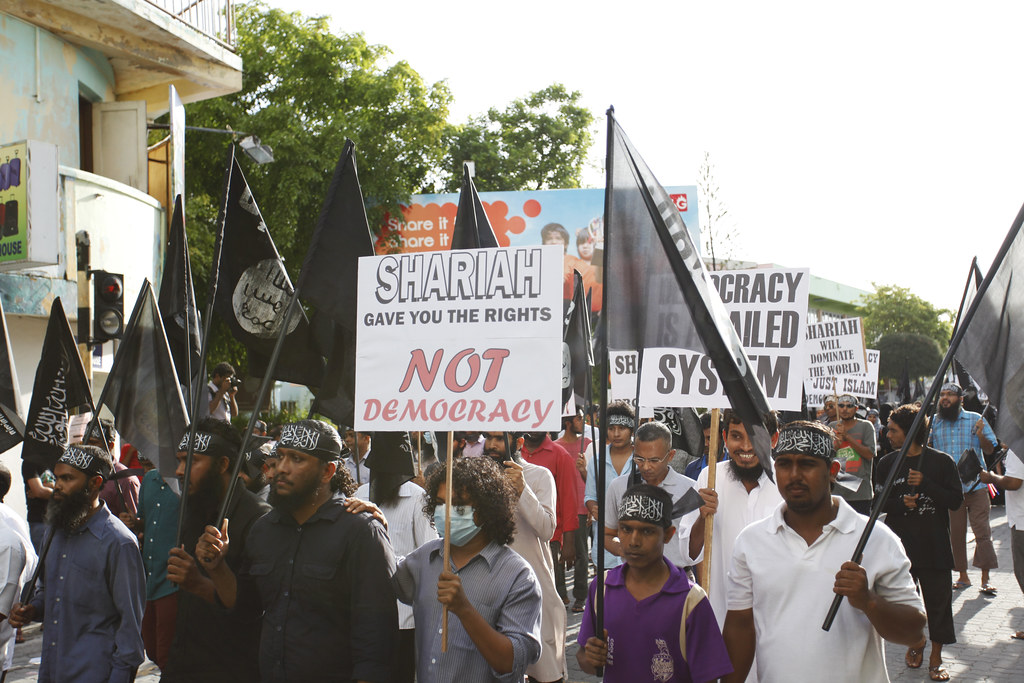 With a population of just 345,000, Maldives has become infamous in recent years for recruitment of Jihadis to Islamic State (IS), Military Coup, Political uncertainty, Political Activism, Chinese control through Infra and Long Term Loans and more.
Pro-IS rallies featuring banners calling for the introduction of Shariah law have been held in Male in the past. US State Department terrorism report said that links had now been made "between Maldivians and violent extremists throughout the world".

India and the US have teamed up to monitor returning ISIS fighters into the Maldives. The country of 3,50,000 has sent almost 400 ISIS fighters to Syria and Iraq (as compared to Sweden with a 10 million population is contending with 300 returnees). More worrisome is the fact that of the 400 who had joined ISIS for Jihad, the vast majority are ex-military.
Maldivian society has become much more conservative due to the influx of Saudi money paying for Wahhabi Imams and mosques, thereby spreading a deeply conservative view of Islam which is at odds with the islands' traditions.
Impact on the Maldives
The Maldives is the most iconic archipelago in the world, famous for its sandy beaches, crystal-clear waters and called a Tourist "paradise".
The Maldivian economy relies heavily on tourism due to the coronavirus pandemic global travel has been significantly reduced. The Maldives in recent weeks has suffered a surge in new coronavirus cases, registering a 7-day average of 1,200 new infections.
Shockingly, terrorists are indulging in assassination attempts on their leaders in the holy month of Ramadan when the country is already grappling with the pandemic.
Impact on India
India and Maldives share ethnic, linguistic, cultural, religious, and commercial links steeped in antiquity and enjoy close, cordial, and multi-dimensional relations.
The Maldives is a matter of particular concern to India and the region. Given restrictive conditions and remote atolls, a more radicalized population could spell disaster for the country and the region. "There has been an explosion of extremist preachers in the Maldives," remarked a diplomat.
The world today needs peace, tranquility development, and democracy. When trained Jihadis attack Maldivian leaders, it will not be good either for the country, its neighbors like India, or the region.
On the one hand, developments in Afghanistan due to the withdrawal of US and NATO troops, Israel under attack from Hamas are fast changing the regional dynamics. Lesser-known Jihadi outfits armed with sophisticated arms and ammunitions trying to control the Maldives is worrisome.
(The opinion expressed are author's own and do not necessarily reflect the views of SamvadaWorld)
Source: https://samvadaworld.com/featured/assassination-attempt-on-mohamed-nasheed-can-india-and-the-world-ignore-the-rise-of-militant-islam-in-the-maldives/