Hindu temple demolished in Pakistan's Khyber Pakhtunkhwa province
AMRITSAR: An angry mob demolished a
Hindu temple
in
Karak
district of
Pakistan
's
Khyber Pakhtunkhwa
(KPK) province on Wednesday.
According to
sources
, a Muslim cleric from Karak, who enjoys the support of a militant group, allegedly instigated the local Muslims against the Hindu community and provoked them to demolish the temple.
A video which has gone viral on the internet shows a large gathering of people demolishing the temple with hammers. In the video the mob can be seen throwing the belongings of the temple with smoke billowing from a part of the building.
Ihtesham Afghan, a human rights activist from Pakistan, tweeted, "A Hindu temple was demolished by religious extremists in Karak today. It is very shameful moment for us because it reflects the way of how we treat minorities in our country. You can't run a federation unless and until the rights of minorities are protected. Strongly condemnable".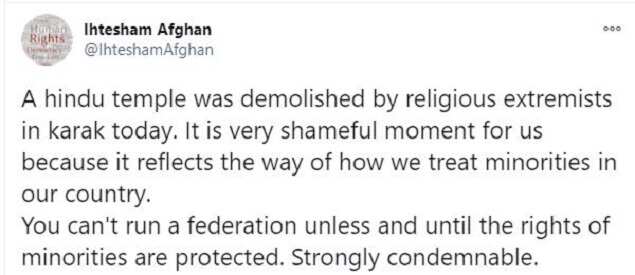 Lal Chand Malhi, member National Assembly from Imran Khan's Pakistan Tehreek-e-Insaf's (PTI), called the demolition "an unfortunate incident".
He said he has talked to the senior administrative officials of Kark district and have asked them to lodge an FIR against the hooligans and take strict action against them.
"Police officials have assured me that they will arrest the perpetrators as soon as possible," said Malhi.
Sources said police have identified a person named Maulana Sharif but he hasn't been arrested so far.
Source: https://timesofindia.indiatimes.com/world/pakistan/hindu-temple-demolished-in-pakistans-khyber-pakhtunkhwa-province/articleshow/80029459.cms