Kabul attack shows why India needs own Afghanistan plan, no matter who wins in US
The next US president will need to set his own house in order before it can help India or frame a South Asia policy. New Delhi can't wait for it.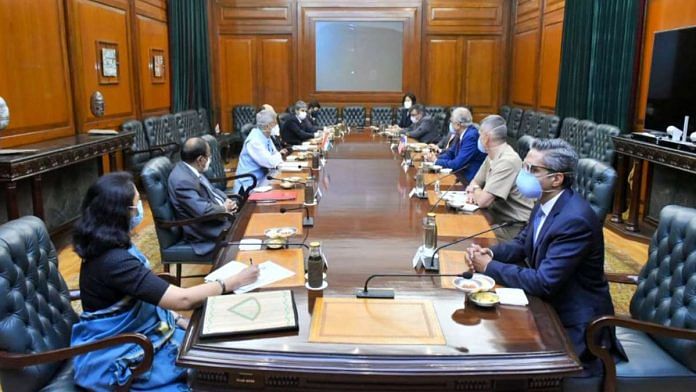 Text Size:
It's not just China, the next US administration, whether led by Joe Biden or Donald Trump, must also focus on what's going on in Afghanistan, where ISIS-affiliated gunmen recently attacked Kabul University, killing 22 people. The Pakistan-brokered deal with Taliban in the Afghan peace talks does not seem to be effective as far as reducing violence is concerned. So, are we Indians on our own?
In such a scenario, India will have to develop an independent policy for dealing with the situation after the US withdraws from Afghanistan. The policy framework will also have to take into consideration the change of guard in the White House. Biden may prefer to go soft on China and give a free hand to his Vice President Kamala Harris to handle the Asian regional balancing. If so, New Delhi could be facing another deja vu situation like during Barack Obama-Hillary Clinton's time.
The Asian pivot
Whether Biden comes to power or Trump, the American Senate, which has a greater say on foreign policy issues, will still be controlled by the Republicans while the Congress will have more Democrats. So the balancing act will begin at home for the new president before any global equations can be reworked.
Four years back, when Donald Trump occupied the White House, we had little clue about his foreign policy and attitude towards India and our security concerns. His predecessor, Barack Obama, had a long wish list of domestic demands. As for dealing with the rest of the world, many American presidents have more or less maintained continuity in foreign policy. The bedrock of American foreign policy is to protect the lives of American citizens and its allies, advance human rights, democracy and global interests and preserve balance of power.
In a changing world, it is debatable if the US has been able to keep pace and truly protect American citizens (read, Covid), or advance human rights issues especially in Xinjiang and Tibet, Taiwan and Hong Kong. As far as global balance of power is concerned, it is doubtful if Obama's policy of declaring China as the pivot of his 'return to Asia' initiative really worked in America's favour.
It was either naïve or an error of judgement on the part of the US to expect China's rise to be peaceful and increase its global footprint through a rules-based international order. China's belligerence in the South China Sea and hegemonic formulations in the region coincided with the end of the Obama regime. Donald Trump turned Obama's policies, both domestic and international, upside down by imposing steep tariffs on Chinese products, walking out of the Trans-Pacific Partnership (TPP) free-trade agreement and signalling the beginning of a trade war.
Hillary Clinton and the Pakistan problem
US policies have often focussed less on a better understanding of the security and strategic agenda of New Delhi.
During Manmohan Singh's second term as prime minister, New Delhi was dealing with Hillary Clinton as Secretary of State (2009-2013), spending more time convincing her of the need to de-hyphenate India and Pakistan than focussing on China. India's concerns about Pakistan's terror plots and China's 'not so peaceful' rise fell on deaf ears in Washington, though the US had its own reasons to be wary of terrorism emanating from Pakistan's soil.
During the run-up to the 2016 presidential election, the Republican Hindu Coalition (RHC), an outfit consisting mostly of Indian-Americans, had even run a campaignagainst Hillary Clinton, accusing her of having pro-Pakistani elements within her close group of advisers.
During her visit to Islamabad in May 2011, the first by a senior US official after the US Navy SEALs killed Osama bin Laden in Abbottabad, Hillary Clinton gave a clean chit to Pakistan saying "there was no reason to believe that anyone in the highest level of the government knew" about Osama's presence in Abbottabad. She also stressed that Pakistan had to do more against militants.
New Delhi was left to believe that the clean chit was supposedly in barter against the return of the tail section of one of the helicopters used in the Abbottabad raid and also to gain access to Osama's wives. But during the 2016 US election, Clinton had to change her stance and name and shame Pakistan, saying that 'senior Pakistani leaders knew of Osama bin Laden's hideout in Abbottabad'.
Stuck between Afghanistan and Pakistan
The Trump administration continued to support Pakistan under several compulsions such as easy access to Afghanistan for movement of troops and bringing the Taliban to the table. Ironically, both Biden and Trump spoke very little on withdrawal of US forces from Afghanistan during their 2020 election campaign. One reason could be the fact that it no longer rings a bell with domestic voters. Besides, both Trump and Biden would favour a phased withdrawal of troops from Afghanistan. Biden favouredreducing the force strength to about 1,500-2,000 for now. Recent terror attacks in Afghanistan are not making the matter any easier.
US troop withdrawal in a hurry should not result in Afghanistan becoming a free-for-all country again, with a radically oriented Turkey and Pakistan as a proxy of China aligning with the Taliban to unseat the Kabul government.
New Delhi will have to work with the White House and assert India's position. In any case, it is better to be prepared to deal with the emerging situation on our own rather than wait for policy direction from Washington.
---
Also read: Biden's dialogue diplomacy will suit India better than Trump's individualistic policy-making
---
Time for an independent policy
It has been the endeavour of New Delhi to work closely with Iran and develop infrastructure projects there so as to build an easy approach to the resource-rich Afghanistan. The Pakistan-China nexus has so far prevented New Delhi from being part of the joint reconstruction programme of Afghanistan, although it was one of the points of agreement during the Narendra Modi-Xi Jinping talks held in Wuhan. To make things worse, Trump withdrew from the multilateral nuclear deal with Iran in 2018. Also, the US has taken serious note of countries doing business with Iran, and its sanctions have impacted India the most, practically to the greatest advantage of China.
India will need an independent policy to deal with Afghanistan now.
The Modi government continued its working relations at the best possible level with Trump as it did with Obama. Between 2016 and 2020, India became a signatory to all the foundational military agreements that will enhance our capabilities in the area of acquiring sensitive geospatial intelligence.
More importantly, India has traversed the extra mile in giving shape to the Indo-Pacific architecture and strengthened its position in Quad and in the extended neighbourhood. The White House should recognise the salience of working with New Delhi as a strategic partner. But the truth of the matter is that America has to set its own house in order before it can help others build security umbrellas.
The author is the former editor of 'Organiser'. Views are personal.
Source: https://theprint.in/opinion/kabul-attack-shows-india-needs-afghanistan-plan-no-matter-who-wins-in-us/538408/