Covid: Lockdown 'exploited by extremists to recruit'
The second lockdown in England is making more young people vulnerable to being groomed by extremists, a senior counter-terror officer has warned.
Supt Matthew Davison, from Counter Terrorism Policing, said extremists were using the pandemic to spread hate and disinformation online.
He said young people were being targeted "in their bedrooms".
At the same time referrals to the anti-extremism Prevent programme are falling.
The government said it would "continue to challenge and disrupt extremists who sow division".
'Hearts and minds'
Supt Davison said online recruitment activity by extremist groups increased during the first lockdown, but referrals to the government-led Prevent programme fell.
Prevent is part of a national counter-terrorism strategy urging local communities to flag up anyone at risk of joining extremist groups.
He said: "In the knowledge that young people particularly are spending more time in their bedrooms - because socially and educationally that's what they've got to do - they're making proactive plans to reach into people's homes to try and win the hearts and minds of our young people.
"This is something we are really concerned about."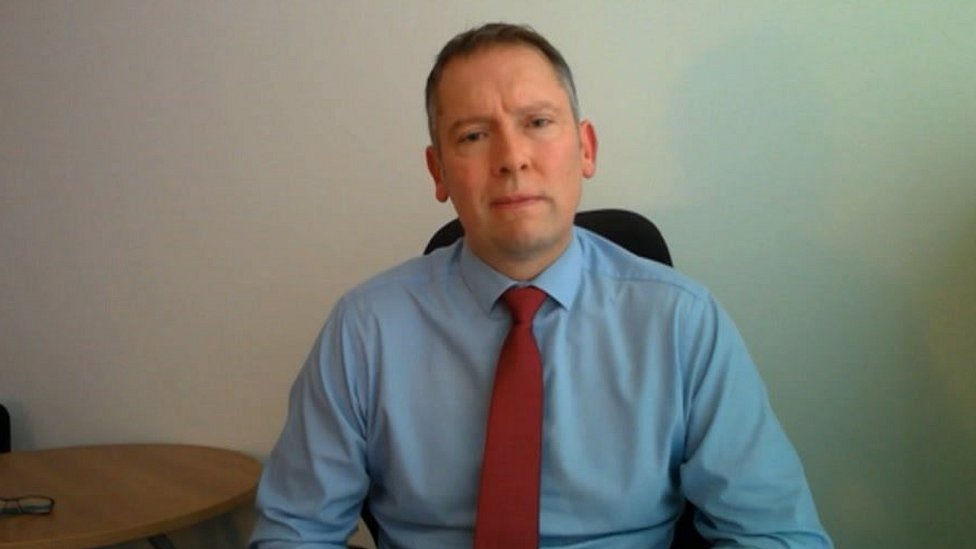 Supt Davison, who is the regional Prevent coordinator in north-east England, said: "During the first lockdown, the online space has been a real lifesaver for people, so people are spending more time online - the terrorist groups and extremist groups have obviously picked up on this.
"They're monitoring the migration of young people, particularly on different platforms, and targeted them with all sorts of propaganda with a view to recruiting them."
A high number of Prevent referrals comes through educational institutions, meaning the figure drops off when they are shut.

Prevent: 'Mothers Against Radicalisation' workshop, Bradford
Sofia Mahmood, who runs the workshop
"The pandemic has caused a lot of divisions within communities, it's caused people to feel they are targeted now.
"Extremist groups are exploiting it - we've seen a rise in far right the last couple of months and we've seen a rise in what people would classify as Islamist-inspired ideologies. We need to be tackling this.
"Certain communities have been scapegoated - for instance the Chinese community received abuse and blame and then it went on to the South Asian community and the Muslim community."
Syca Rafiq, British Pakistani Muslim
"It just reminded me of when September 11th happened and we were looked at in a really horrible way - it was horrible.
"But after that it seemed a lot of things changed and eventually everything started coming back together which was really nice.
"Then this whole pandemic I feel like it's brought us back there - where we're being judged for our colour."
Karen, white British, who initially had a "them and us" mentality
"People are blaming each other - whole communities are blaming other communities for why it's spreading.
"That was the case when the [first] lockdown was on - 'well they're going out, they're still doing this and that', but when the lockdown eased we're finding everyone is at risk and we're all in it together.
"We understand now that - whatever creed - we all want the same for our children."

Recent research by the Commission for Countering Extremism (CCE), a government agency founded after the 2017 Manchester Arena bombing, found extremists used the pandemic to engage in disinformation to incite hatred.
Sarah Khan, CCE lead commissioner, said: "Far right groups have sought to incite hatred against Jewish and Muslim communities. Islamist groups have been using the pandemic to promote anti-Western Islamist narratives.
"We are calling on the government to publish a new counter-extremism strategy to ensure a more effective response to the persistent activity of hateful extremists."
A Home Office spokesperson said: "We continue to challenge and disrupt extremists who sow division, promote hatred and undermine our fundamental values.
"We keep the Counter-Extremism Strategy under review to ensure it is best placed to tackle the changing threat and have the Prevent programme in place, which is fundamentally about safeguarding vulnerable individuals to stop them from becoming terrorists or supporting terrorism."