Credit To Indian Army As 69 Terrorists Killed So Far This Year, Including 25 From JeM
A total of 69 terrorists have been killed and 12 apprehended in Jammu and Kashmir; 41 out of these 69 have been killed post the Pulwama attack in February 14, the GOC, 15 Corps, KJS Dhillon told during a press conference.
In Srinagar, the press conference was held and it was presided by the state Director General of Police, Dilbagh Singh, IG, Kashmir, SP Pani, GOC KJS Dhillon and CRPF IG, Zulfikar Hasan. During the press conference, it was said that the law and order situation in the state has improved.
GOC, 15 Corps, Dhillon said that 41 terrorists have been killed post Pulwama attack in which 40 of CRPF soldiers were martyred and out of these 41 terrorists, 25 belonged Jaish-e-Mohammed (JeM) and 13 of them were from Pakistan. The CRPF convoy was attack by a suicide bomber carrying explosive in an SUV which left 40 soldiers dead and many others injured. India and Pakistan had come to close to war after IAF carried out attacks inside Pakistan on JeM training facility.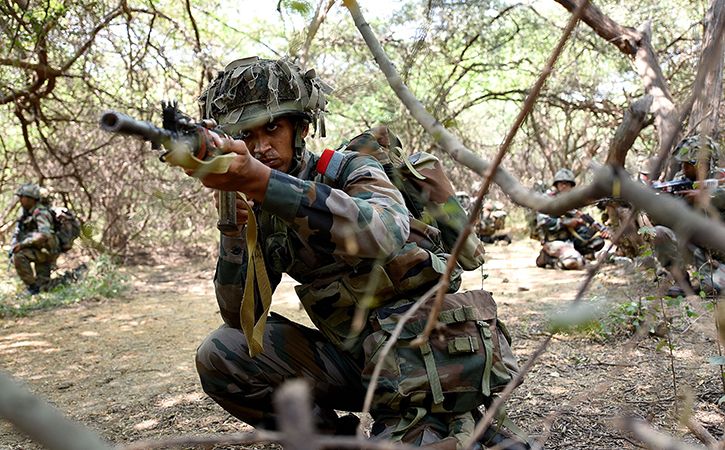 bccl/representational image
He also said that the forces will keep the operations against the terror going and won't let the terrorism in the state rise. He was quoted by TOI, "We have targeted the JeM leadership. The situation now is that no one is coming forward to take over the leadership of JeM in the valley. Even after Pakistan's best efforts, we will continue to suppress JeM, specially after Pulwama," he said.
The DGP, Jammu and Kashmir said the recruitment of the locals have declined which is progressive indication, "272 terrorists were eliminated in the state during 2018 and a large number were apprehended," he said.
The SSP Baramulla told that one Pakistani terrorists Mohammad Waqar, was arrested from Sopore. "He came to India in July 2017 by crossing the border and was operating in Srinagar for over a year. His plan was to resurrect terrorism in Baramulla," he added
Source:https://www.indiatimes.com/news/india/credit-to-indian-army-as-69-terrorists-killed-so-far-this-year-including-25-from-terror-outfit-jem-366058.html