The global terror network that started in Pontypridd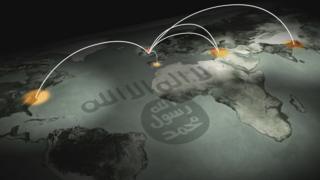 A terror network established in south Wales is now suspected to have been a much more elaborate and sophisticated operation. BBC Wales Investigates reveals the complex web which began with the arrival in Pontypridd of a "vulnerable looking" computer engineering student.
In late December 2015 a uniformed Pentagon spokesman, Colonel Steve Warren, made a video announcement about "Operation Inherent Resolve", the US military's campaign against the so-called Islamic State (IS) group in Iraq and Syria.
The spokesman gave details about 10 senior IS figures who had been targeted and killed, many in drone strikes, over the course of the month.
"We are striking at the head of this snake by hunting down and killing ISIS leaders," declared the US Army spokesman.
Among those killed was Siful Sujan, a Bangladeshi national who was targeted near Raqqa in Syria on 10 December.
Sujan, said Col Warren, was an "external operations planner who had been educated as a computer systems engineer in Britain".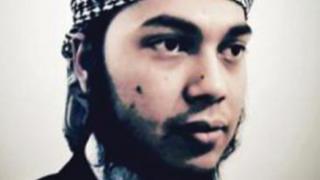 The American officer described Sujan as a key figure in IS's "hacking efforts, use of anti-surveillance technology and weapons development".
"Now that he's dead, ISIS has lost a key link between its networks," concluded Col Warren.
The impression given, with the demise of this computer engineer turned senior IS leader, was that an influential and damaging IS cell had lost its leader and its operations severely curtailed.
Now, after an investigation lasting several months and covering three continents, BBC Wales Investigates has been able to piece together how Sujan emerged from virtual obscurity to become a key player as IS established its caliphate in Iraq and Syria.
Moreover, we have also learnt of claims that even after his death, Sujan's sophisticated network continued to fund terror operations around the globe and we find out what happened to two other people named by the FBI as being involved in his operation.

When he came to the UK from his native Bangladesh in the early 2000s, Siful Sujan certainly did not have the appearance or demeanour of someone who, in the space of less than a decade would come to be regarded as one of IS's most senior and dangerous operatives.
He settled in Pontypridd, to the north of Cardiff, where he enrolled on a degree in computer engineering at the former Glamorgan University.
Rob Rees, who met him several times in 2005 after Sujan said he wanted to buy his house, remembers him as a quiet but hard-working person who could barely afford enough money for the deposit but was keen to make a home for his new wife who was soon due to arrive from Bangladesh.
"He was the sort of person you'd want to put your arm around and take under your wing. That's why my wife and I did a little bit for him," said Mr Rees, who still lives near Pontypridd.
"He [Sujan] looked vulnerable, unsure of what he was doing."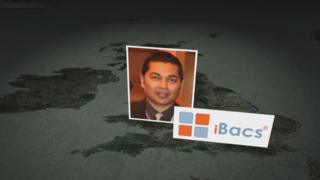 If he was lacking in confidence and support when he first came to Wales, within a few years Sujan appears to have turned his fortunes around. He had set up his first business, an IT company called iBacs Ltd and had joined the Wales Bangladesh Chamber of Commerce, even travelling on a high-profile trade mission back to his home country with other Bangladeshi business leaders from south Wales.
At some point towards the end of the decade, Sujan's brother - Ataul Haque - also came to live in Wales. They jointly ran the expanding business empire that specialised in software development for predominantly Asian food outlets and also imported portable payment devices from China, again largely for Cardiff's numerous South Asian restaurants.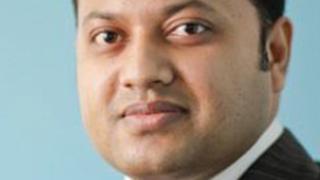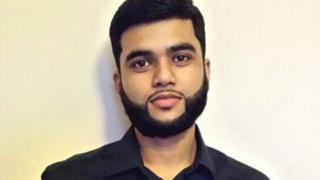 There was a third man, not a formal partner in the business, but a young local computer expert, also of Bangladeshi origin, but who was born and educated in South Wales. His name was Abdul Samad and he became an increasingly important figure in Sujan's business dealings.


From the turn of the decade Cardiff, like many other UK cities, began to have its problems with a small but high-profile number of radical young Muslims - men from different ethnic minorities, or converts to Islam, who became disillusioned by the global war on terror and were drawn in by the twisted and fanatical rhetoric of IS.
People like Nasser Muthana and Reyaad Khan, both from Cardiff, fled to the Middle East and became poster boys for international jihad. They appeared in IS videos and proclaimed their allegiance to the newly-declared Islamic State in Iraq and Syria.
To most in the Bangladeshi community, Sujan was not particularly religiously conservative and certainly did not seem to espouse any of the radical opinions that emanated from the speeches and writings of some jihadist-supporting preachers.
"He didn't seem at all religious and was more focused on business and making money," said Cardiff restaurant owner Enam Uzzaman, who had limited business dealings in the food sector with Sujan.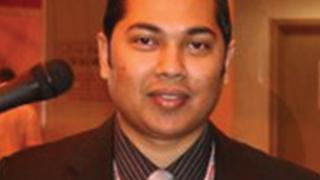 Mr Uzzaman, who had been invited to Sujan's wedding party during a previous visit back home to Bangladesh, said: "It wasn't a conservative wedding... there was mingling, no separation with women on one side and men on the other… it was as if you'd gone to a wedding in this country."
Staff at the business park where iBacs rented office space recall Sujan at some point changing his clean-shaven western-style image for the more traditional bearded look of a religious Bangladeshi Muslim.
But that in itself was no sign of radicalisation and if he was indeed becoming more attracted to extreme religious teachings and the growing influence of IS propaganda, unlike the hot-headed behaviour of the Muthana brothers and Reyaad Khan, Sujan kept those feelings to himself and his very small circle.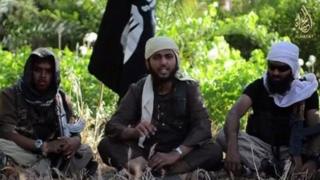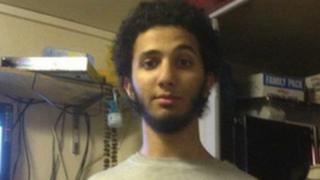 As it happens, both brothers - Siful Sujan and Ataul Haque - were married to twin sisters, who they had brought over from Bangladesh to live with them in south Wales. The sudden and unexpected death of his brother's wife - believed to have been in mid-2012 - has been suggested by some observers as a pivotal moment in Sujan's life and it was around this time that the direction of his life may have changed, from ambitious western businessman to radical Islamist-supporting financier and equipment supplier.
Crucially, UK anti-terror officials appear to have been unaware of these developments until much later.

Earlier this year, in the depths of a cold north-eastern winter, I travelled to Baltimore to find out how and where Sujan's career as a pivotal lS leader was first uncovered.
Like the UK, America had dealt with several home-grown Islamists, some of whom travelled to the Middle East in pursuit of jihad or to live under the yoke of IS.
But thanks to high-tech forensic monitoring and increasingly effective surveillance, the FBI and its fellow intelligence agencies had been able to prevent the direct funding, from abroad, of any attempt to commit a terror attack on US soil.
That was until a newspaper deliveryman came under the FBI's microscope around the summer of 2015.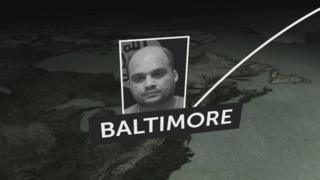 Baltimore resident Mohamed Elshinawy had been receiving relatively small but regular amounts of money from overseas via sources including Moneygram and Western Union - $1,000 (£755) here, $500 (£378) there until almost $8,000 (£6,045) had been sent and collected.
By the October of that year Federal agents decided to move, searching Elshinawy's home where they found evidence linking the deliveryman to Sujan and his Cardiff-based company.
Moreover, they soon established the money was being sent in order to fund terror attacks inside the United States.
FBI investigators also established that not only was the would-be American jihadist being sent money from the iBacs accounts in Wales but that he was also being given step-by-step instructions on how to carry out an attack.
"You had these individuals who are directing Elshinawy to commit an attack," says terrorism expert and academic Seamus Hughes, who has been following the Elshinawy case for more than a year from his office at George Washington University in Washington DC.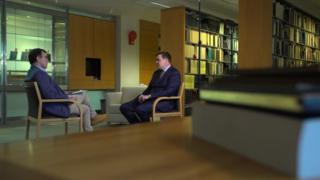 A spider's web info graphic pinned to his wall, which includes photos of suspects - some alive and some now dead - betrays the complexity of what he is researching.
"The first communication was to go kill an individual in Texas," says Mr Hughes. "But when Elshinawy wasn't able to get all that together, they said 'why don't you focus on committing a large scale attack in Baltimore?'"
In his communications with Elshinawy, Sujan sent him at least 16 videos with instructions on how to make a bomb and FBI investigators were able to show that Elshinawy researched several potential high-profile targets, including the main federal court building in Baltimore.
Faced with the weight of evidence against him, Mohamed Elshinawy admitted a number of terrorism charges and, earlier this year, he was sentenced to 20 years in jail.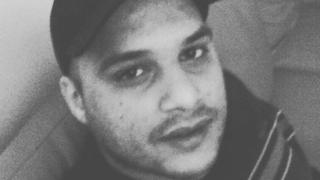 A would-be, home-grown American terrorist had been caught and was now safely behind bars, but what the FBI's two-year investigation showed, says Mr Hughes, was just how sophisticated the IS network that recruited Elshinawy was. It was a network that included an innocuous IT firm in south Wales.
"It's a level of sophistication I don't think most analysts expected from ISIS," Mr Hughes tells me. "This is using shell companies to send money across a number of different countries. This is very unique - the only known ISIS funded plot in the United States."
Mr Hughes has no doubt that the Elshinawy case opened the lid on a hitherto hidden terror network directed by Sujan and his co-conspirators.
We've spent months poring over detailed FBI files and court documents, pulled together as part of the case against Elshinawy, which throw wide open the extent of Sujan's operation to fund IS attacks, and provide material support to IS as well.

Two names come up again and again in the FBI documents; Ataul Haque, Sujan's brother and Abdul Samad, the computer expert and co-worker at iBacs.
The FBI says its evidence shows Mr Samad actively supported IS and, on the instructions of Sujan, personally facilitated payments to Elshinawy in America.
Moreover, say the US documents, he was involved in organising and acquiring technical equipment destined for IS.
What we now know is that Sujan's operation had become adept at procuring military-grade surveillance equipment, drone parts and so-called "dual use" material that was shipped to IS operatives in Syria and Iraq, often via Turkey, where it would be adapted for military purposes by IS.
In one example, the FBI papers highlight how Mr Samad was directly involved in obtaining $18,000 (£13,601) worth of surveillance equipment from suppliers in North America and, at Sujan's request, sending it on to the Middle East.
FBI investigators point out, on more than one occasion, that none of this equipment was in any way compatible with iBacs' stated business activities, that of providing IT support mainly to the catering industry.
In addition to unearthing evidence purporting to show Mr Samad's direct involvement in transferring money and moving equipment, investigators were able to trawl through his communication records and social media history.
We, too, found evidence that would appear to give credence to the FBI's claim that Mr Samad was an active supporter of IS and other Islamist ideology.
'KillObama77'
He shared IS propaganda videos in which narrators make the case for the establishment of an Islamic State. In others Muslims were encouraged to become martyrs on the battlefield.
He also describes one senior and notorious Al Qaeda figure as his "role model for the 21st Century".
The password for one of the office accounts was KillObama77.
Mr Samad was arrested by UK anti-terror police on 10 December 2015, the same day that an American drone strike killed Sujan in Syria.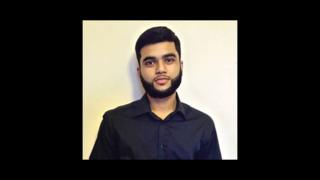 By then Mr Samad was the sole occupier of the iBacs offices in Cardiff and much of the equipment was seized, as was evidence from Mr Samad's home in Newport.
Police told Mr Samad the "threshold" had not been met for him to be charged with any offences.
We wrote to Mr Samad, offering him the chance to respond to specific allegations - that he was accused of helping to transfer money to a known IS sympathiser in the United States, that he was accused of being involved in the procurement of high-grade military technology that was destined for the use of IS and that there was a large quantity of video and printed material on his computers, supporting the FBI's claim that he was a supporter of Islamic extremism.
Mr Samad responded by saying he had been told, after his initial arrest in December 2015, that he had been released without charge and no proceedings were brought against him.
He has denied any wrongdoing, or holding radical views or having any knowledge of a plot to fund attacks in the USA. And he claims to have only ordered legitimate equipment for the company.
There was one other, new accusation that we put to Mr Samad - that in September 2017 he had set up a new company here in south Wales, for Sujan's brother, Ataul Haque, who at the time was living and working in Spain.

Haque was Sujan's older brother, by a year. The two were close, they were partners in the south Wales business - iBacs.
Like Mr Samad, Haque's name featured prominently in the FBI's case against the IS supporter from Baltimore, Mohamed Elshinawy.
And like Mr Samad, it appears that despite being on the radar of intelligence agencies, no action was taken against Haque.
Indeed Ataul Haque, despite being the brother of the man described as one of IS most senior leaders and the effective director of its computer operations, was not even arrested.
By virtue of having met and married a Spanish woman in Cardiff, after the death of his first wife, Haque was able to travel to Spain.
They eventually appeared to have settled in Spain in August of 2015, intriguingly only after Haque was deported from Turkey.
But Spanish police had Haque under surveillance from the start and, on the next leg of my journey tracing this international terror network, officers in Madrid told me how they had pieced together their case that the network continued to function, even after Sujan's death in December 2015.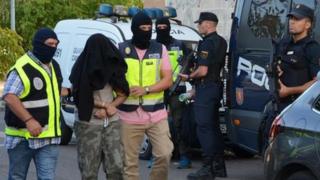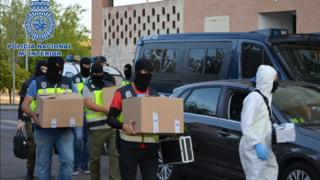 Speaking on the condition of anonymity because of the sensitive nature of their work, a senior officer from the national police force's investigation unit told me how Haque had replicated in Spain - albeit under a slightly different name, "Isynctel" - almost exactly the same kind of IT company his brother, Sujan, had previously run in south Wales.
"We knew his brother had been a very senior figure in ISIS," the officer told me. "On the face of it the business was legal… but the destination of the some resources was to fund ISIS technologically and financially."
In one area in particular, Spanish police believe Haque may have been even more ambitious than his brother - the adaptation of commercially available drones by IS for its own military and propaganda ends.
I saw for myself, while reporting on the battle for Mosul in Iraq last year, how IS had perfected the use of drones to drop mortars or grenades and also to direct suicide attackers.
One reason for the Americans' targeting of Sujan at the end of 2015 was his perceived senior role in the IS so-called "technological battalion".
But according to the Spanish police unit investigating Haque's activities, the other brother too, took a particular interest in obtaining and adapting drone equipment.
"Ataul made a very detailed study of what ISIS said was needed to modify such drones, with what was available in the Spanish market," said my Spanish police contact - mindful of the fact the iBacs network had already sent numerous pieces of "dual-use" and military grade equipment to the Middle East.
Peter Singer is an American military strategist who I had interviewed on my visit to Washington while researching the terror network, which had its origins in south Wales but had utilised financial expertise and easily available technology to spread its tentacles far and wide.
"We will see more use of drones by terrorists not because ISIS has lost control of Iraq or Syria," said Mr Singer, "but because the technology is becoming more commonplace."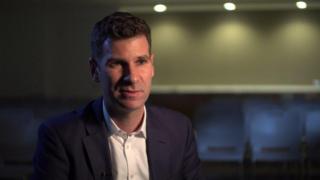 The senior analyst at the New America think-tank says that IS operatives quickly learned to adapt drones for attacks and surveillance, "linking them to their propaganda campaigns… and weaponising them, which they began to design and make better."
Again, this takes us back to the detailed FBI evidence against the terror cell and its activities - that they perfected the purchase and use of high-grade but commercially available technology including "centre loaded mag mount scanners", "3G/4G cell-phone spying & wireless camera finders", "forward-looking-infrared-cameras" and so on.

The Spanish police claim that, like Sujan before him, Haque had his eyes firmly set on expanding IS's sphere of influence.
"He organised the sending of technological equipment to Turkey and also arranged for thousands of dollars to be sent to terrorists in Bangladesh," said the officer from the Spanish team I spoke to at length in Madrid.
"We estimate that in December of 2015 Ataul sent a total of $50,000 (£37,781) to Bangladesh. The destination of that money, according to our Bangladeshi colleagues, was specifically operational, to carry out attacks."
The Bangladeshi authorities have been reluctant to accept that IS is establishing a presence within the country, despite the growing number of terror attacks within Bangladesh itself and the disproportionately large number of Bangladeshi jihadist who went to fight with IS in Iraq and Syria.
One Bangladeshi journalist who believes that Sujan and his network were deeply influential in promoting IS in their native country is Tasneem Khalil.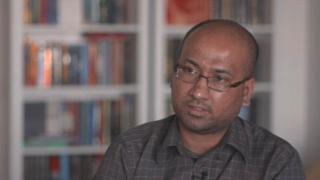 He has been reporting on the brothers' influence for many years but, because of his work, he says he was tortured by the authorities in Bangladesh and now lives in exile in Sweden, where I travelled to see him.
"Siful Sujan was one of the key architects of the global money moving operations of ISIS," Mr Khalil told me in the genteel surroundings of Malmo where he now lives and works. "In Bangladesh he [Sujan] was instrumental in setting up the first phase of ISIS's operations, to recruit young men to the battle fields of Syria."
Mr Khalil estimates that the network run by Sujan, initially from the company's base in Cardiff and through a sister business in Bangladesh, recruited at least 50 jihadist fighters in south Asian countries. About half of those travelled to Iraq or Syria. The rest, says Mr Khalil, probably carried out attacks in Bangladesh itself.
"There were several operations that were carried out - murders inside Bangladesh - that could have been funded by Sujan's money," says the now exiled journalist.
Terror attack
It is also believed that money sent by the terror network established by Sujan could have been used to fund the worst terror attack in recent Bangladeshi history, when 24 people were killed in a 2016 attack on a Dhaka bakery.
The police in Bangladesh declined to comment on terrorist attacks in the country.
In September 2017, the authorities in Spain and Bangladesh decided, almost two years after Sujan's death, they had to act against that part of his terror network that they suspected had remained active and highly effective.
Haque was detained in the southern Spanish city of Merida and, in a simultaneous operation, 11 men were arrested in Bangladesh on suspicion of having links to the terror network.
Spanish investigators have no doubt that Haque, and his brother before him, were highly dangerous individuals.
"Yes they are," says the Spanish investigator. "They are possibly more dangerous than those who publically express their willingness to carry out attacks, who can be more easily dealt with… it has taken six years and the collaboration of four countries to neutralise activities."
Fighting the funders and suppliers of international terrorism has become just as much a priority for global law enforcement agencies as it is to stop the idealistic, impressionable young radicals who declare their allegiance to extremist ideologies - prepared to carry out attacks at home or abroad.
"If you can move dollars and you can get dollars into the hands of people who are going to use that money… to build bombs or carry out attacks, it is incredibly dangerous," says Dennis Lormel, who founded the FBI's 'terrorist financing section' in the wake of the 9/11 attacks.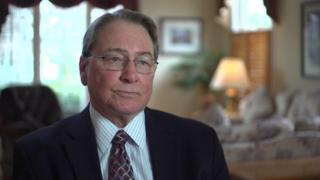 Mr Lormel, who I interviewed in Baltimore while starting my investigation to uncover the extent of this vast network, says terrorist financiers are now just as important targets as the terrorist themselves.
"The more we can do to disrupt the flow of funds, the less likely they are to have successful attacks," he told me as we discussed why the US military chose to target Sujan in December 2015.
Siful Sujan is dead.
Ataul Haque is in a Spanish jail where police say he is likely to be charged with terror offences later in the year, although he has previously denied the allegations against him.
Abdul Samad has again denied the serious allegations that were raised in our investigation and listed in detail in FBI court documents. Mr Samad was told by police the "threshold" had not been met for him to be charged with any offences.
He did not, though, address the latest accusation - that, just days before Ataul Haque's arrest in Spain last year, Samad set up a new company for Haque, in Wales. The name of that company was "Isynctel" - the same name as the company in Spain which, say Spanish police, was a front for a vast IS financing and supply operation.
The terror network established by Sujan has perhaps finally been dismantled, albeit more than two years after an American army colonel - announcing Siful Sujan's death - perhaps prematurely declared the end of what is now suspected to have been a much more elaborate and sophisticated operation.
Source:
https://www.bbc.co.uk/news/uk-wales-44826806