Spanish 'terror lyrics' rapper Valtònyc says he has no regrets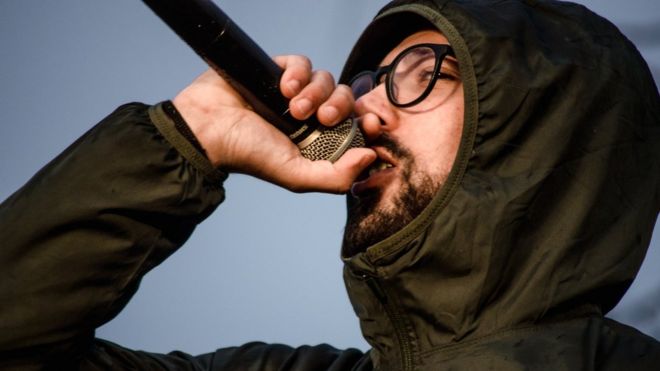 A Spanish rapper on the run in Belgium from a three-and-a-half year prison sentence has told the BBC that he does not regret any of his lyrics.
Josep Miguel Arenas Beltram, known to his fans as Valtònyc, was convicted in May of insulting the Spanish royal family and glorifying terrorism.
In one song Valtònyc, 24, raps: "The king has a rendezvous at the village square, with a noose around his neck."
He has been released on bail pending a decision on his extradition to Spain.
Valtònyc, who had said that "disobedience is legitimate and a duty" before he went on the run in May, says that his lyrics are merely designed to provoke people into examining their attitudes and reactions.
"The motivation is to provoke, like any artist. I look at Picasso's Guernica and it makes me feel powerlessness, it makes me feel rage," he told the BBC's Gavin Lee on Thursday.
"This doesn't mean you should ban it. All artists try to do this, to provoke and uncover attitudes, and experiment with people's reactions," he added.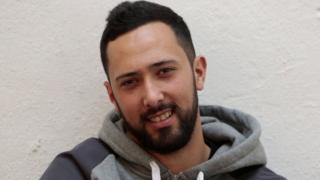 In his music, some of which has been released through a YouTube channel, Valtònyc courts controversy with lyrics in which he describes wanting to drop a nuclear bomb on a local politician.
In another of his songs, he sings about "a message of hope", adding "Eta is a great nation" in a reference to the Basque militant group.
The Majorca-born rapper is the first artist in Spain since the fall of the Franco regime in the 1970s to be found guilty of insulting the monarchy.
Valtònyc has spent the past two months in self-imposed exile in the Belgian city of Ghent.
He said he was inspired by the ousted Catalan leader Carles Puigdemont's decision to flee to Belgium after Madrid took control in Catalonia in response to a unilateral declaration of independence last October.
Around the time of his disappearance in May, Valtònyc tweeted that "Spain is going to make a fool of itself", adding that he was not "giving up".
Mr Puigdemont then responded to his tweet, offering his support to the artist.
"All my affection to you for a difficult decision, but it allows you to continue defending values and fundamental freedoms without which there is no democracy," Mr Puigdemont wrote.
Spain issued an international arrest warrant for Valtònyc immediately after he went on the run, leading to a backlash on Spanish social media over freedom of speech in the country.
The musician had appealed to the Supreme Court on the grounds that he was protected by his right to freedom of expression, but this was later rejected.
Source:
https://www.bbc.com/news/world-europe-44728481