Pakistan Army 'openly' supporting religious extremism in country, alleges US Congressman Dana Rohrabacher
Washington: Pakistan's powerful army is supporting religious extremism in the country, an influential US lawmaker has alleged as he voiced his support to the rights of the Mohajir community. The term Mohajir is used to describe the Urdu-speaking immigrants who left India in 1947 and came to Pakistan. A large chunk of them settled in the Sindh province.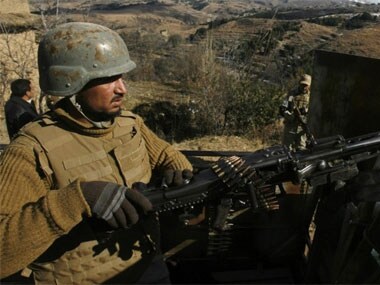 File image of a Pakistan Army soldier. Reuters
Addressing the participants of the conference 'Mohajir Day on the Capitol Hill', organised by the Muttahida Quami Movement (MQM), Congressman Dana Rohrabacher alleged that the corrupt Pakistani Army officers are involved in the extrajudicial killing of Mohajirs in Karachi. "They are openly supporting religious extremists. This is not acceptable at any cost," said Congressman Rohrabacher, a close aide to former US president Ronald Regan. Rohrabacher, the lawmaker from California who was earlier a close friend of Pakistan, is now one of the strongest critics of Islamabad for it providing safe heaven to terrorists.
The conference was attended by workers and office bearers of MQM from 12 chapters of the US, Canada and the UK, along with representatives of think-tanks, senior journalists, bloggers and people from different walks of life. A member of the House Foreign Affairs, Rohrabacher said that Mohajirs in general and workers of MQM are suffering in Pakistan. "I extend my full support to them," he said, adding that every citizen has every right to defend his freedom and basic rights and the United States is fully aware of the crimes of the corrupt officers from Islamabad.
"We cannot allow these corrupt officers from Islamabad to continue the atrocities. It is totally unacceptable," Rohrabacher said, adding that it is not at all acceptable that Islamabad is openly supporting the religious extremists and fanatics. He said "we want to make Karachi a peaceful and prosperous city like Singapore and we will support MQM to get rid of these atrocities".
Addressing the participants, Nadeem Ehsan, convener of MQM, said that the basic human rights of Mohajirs are violated and they are not even allowed to vote to whom they want, and therefore, the founder and leader of MQM, Altaf Hussain has announced to boycott the upcoming elections on 25 July.
Source:
https://www.firstpost.com/world/pakistan-army-openly-supporting-religious-extremism-in-country-alleges-us-congressman-dana-rohrabacher-4765181.html