Meet Altaf Mir Who Crossed Over LoC to Become Militant and is Now Coke Studio Sensation
Altaf Mir, who lives in Muzaffarabad, crossed the Line of Control in the 90s to become a militant. Today, he is a celebrated artiste and Coke Studio sensation.
Ha gulho tuhi ma sah wuchwon yaar myon
O blossom, have you seen my beloved... Tears flow from the sunken eyes of Jana Begum as she watches a video of her son singing this song. Her son is Altaf Mir, who crossed over to Pakistan in the 90s to become a militant, but after all these years has become a Coke Studio sensation based on a song that moves his mother to tears instantly.
Begum's eyes are fixed on a mobile phone she holds in her trembling hands. She is watching her son sing and dance while intoning the lyrics of legendary Kashmiri poet Mahjoor.
Bulbulu tuhi tcahari toan gulzar miyon
. O nightingale, help me find my love...
Amid the chirping of birds, an unusual silence drapes the house of Begum Jaan in Janglat Mandi, a crammed neighbourhood in south Kashmir's Anantnag.
As the folk music starts reverberating in a small room of Begum's house, her memory travels 28 years back.
An autumn day in 1990
Begum's elder son, Altaf Mir, in his mid-twenties was a handicraft artisan.
"I was a chain-stitching artist in evening hours and a bus conductor during the day. When most of my close friends crossed the LoC, I also followed their path without thinking much of it," Mir says over a video chat from his home in Muzaffarabad.
After getting arms training, he returned to his hometown in the spring next year. But his heart was not in violence, it lay in music.
"I started performing in Sufiyana mehfils," he says, recalling those days playing Noat, a South Asian percussion instrument. But such
mehfils
were a rarity.
"Guns were everywhere. There was no singing and music at marriage parties. So I would spend my time at the mystical music gatherings in Chrar," a town in Budgam district, which houses the shrine of Kashmir's most respected saint Sheikh-ul-Aalam.
"I would play the instrument throughout the night," says Mir, his eyes filled with nostalgia.
He realised that playing music also saved him from being killed by security forces.
"Forces would never suspect me to be a militant," Mir recalls. He became a
malang
, a sage.
"My
peer
was Rahim Sahab, who lived in Ratpora Eidgah, in Srinagar. We would gather at his home frequently," he adds.
But just when Mir thought everyone had forgotten about his militant background, he was caught by surprise.
"Operation Catch-and-Kill had been launched but I thought I will not be harmed since I had never harmed anyone. But I was soon summoned by an Ikhwan (pro-government militia)," he says. "I went into hiding. A local Ikhwan commander raided my house three times, but fortunately, I was not there. I was convinced that they were going to kill me."
In these years, Altaf had met his family few times, that too for brief periods. He was compelled to cross over once again. "In the December 1995, I went to Baramulla and contacted my guide and crossed the LoC in Uri," Mir says.
This time, he was sure he was going forever.
Having reached Muzaffarabad, he began looking for work, but there was none for him. He would rely on his old friends.
"One day, a friend of mine who had crossed over the LoC with me told me he was getting married. I volunteered to sing at his marriage party," says Mir. "That night, every Kashmiri present there was mesmerised."
One of the people who listened to Altaf Mir at the wedding was an employee at Radio Muzaffarabad. He told him to visit the director of the station.
"When I went to the radio, they tested my voice. After listening for just a few minutes, they gave me five assignments," he says.
This started Mir's musical journey and became his livelihood.
"I would do five shows a week for radio, singing Kashmiri songs. Invitation from official parties started pouring in on daily bases. When the first TV channel was launched in Muzaffarabad in 2004, I was asked to perform in its opening ceremony," Mir says with pride.
He eventually married a local lady, Fozia, in 1998 and is now the father to four sons, the eldest of whom is 16 and the youngest eight.
Altaf Mir with two of his sons.
Coke Studio
The producers of Coke Studio were looking for new talent when a lady, Mir says, suggested his name.
In April this year, producers of Coke Studio met Altaf Mir and were spellbound by his talent.
Mir, who dropped out after Class 6, says he can read Kashmiri fluently and has memorised more than 2,000 ghazals and other poetic forms.
"I admire Kashmiri poets like Rasool Mir, Mahmood Ghami, Wahab Khar and others," he says. "When producers of Coke Studio asked me to give them few samples, I inundated them with ghazals from all these masters."
Mir has kept books of Kashmiri poetry in his house and believes that the reason behind his success is his love for his native language.
Recording the song was no tough job for Mir. "We completed the recording of the song in five minutes in a hotel," he says.
But strange and hard was the video shoot.
"I have never stood up while performing, but this time I had to dance and that too in front of the camera," Mir says with a grin. "We completed the video shoot in a day, exploring different parts of Muzaffarabad."
Mir's group is called Qasamir, and four of his associates are also from this side of Kashmir. Three of them are former militants like Mir.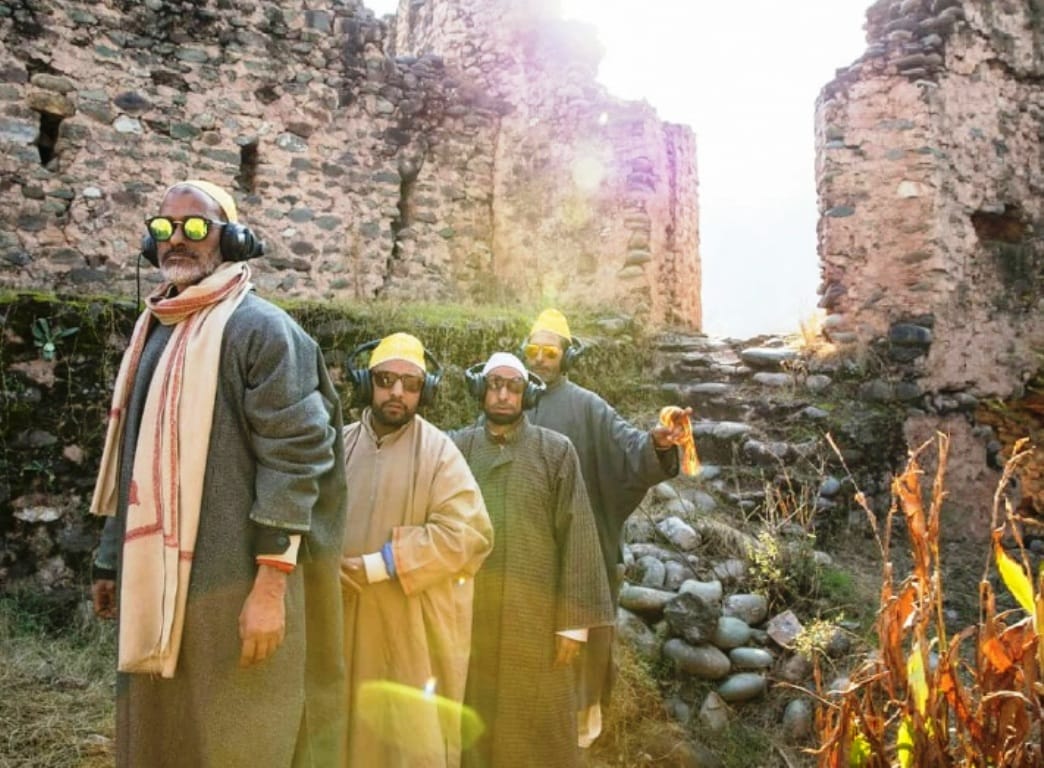 Altaf Mir with his band-mates from Qasamir.
The voice and composition in the song is completely folk-based. The dresses and musical instruments are traditional — Feran, a robe-like dress and skull cap. The musical instruments used are Sarangi, Tumbaknaer and Noat.
In these years, Mir's mother has visited him twice, through the Wagah Border.
He now calls his family every now and then via the internet.
"But home is home," says Mir. "Every day I long for my native place. No matter how beautiful life is, I always miss my home."
Now the only connection he finds with his native place is the Kashmiri language. "My love for the Kashmiri language increases with each passing day," he told me. "I wish I could visit my home."
Through Coke Studio, he wishes to sing more songs in Kashmiri and reach to his people. "After this song, I am flooded with greetings and messages," he says. "I don't know how to react."
The music video featuring
Ha Gulo
is over three minutes long and has been watched by millions on the internet.
On this side of Kashmir, the day song this song was released, it soon became the subject of every street conversation and people from diverse backgrounds began sharing it with pride.
As we take her leave, we hear Mir's mother Begum Jaan singing along with her son.
Ha gulho tuhi ma sah wuchwon yaar myon.
O blossom, have you seen my beloved...
(The author is a Kashmir-based freelance journalist)
Source:
https://www.news18.com/news/india/sunday-feature-meet-altaf-mir-who-crossed-over-loc-to-become-militant-and-is-now-coke-studio-sensation-1812285.html