Knock Out Extremism: Scheme aims to stop radicalisation
Politicians and the police are backing a sports project aiming to stop young people being drawn into terrorism.
Knock Out Extremism was launched at the Peterborough Police Boxing Club and attracted teenagers and young people from across the region.
The hope is that by getting involved in a boxing club, some young people will be diverted away from radicalisation.
Boxing can give teenagers firm footing to deter extremist groups, DC Rich Ellison from Hertfordshire Police said.
"Vulnerable youngsters are looking for camaraderie and friendship that extremist groups will home onto.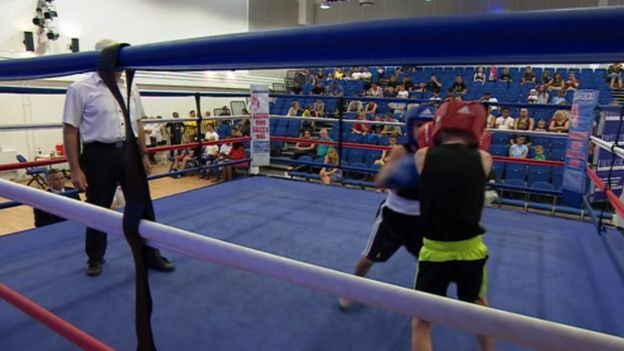 "We are trying to give young people that friendship within the confines of a boxing club," he said.
Lewis Richardson, 21, from Essex, who has just joined Team GB's boxing squad, said: "Boxing can get people off the streets and often gives them a purpose in life."
Peterborough MP Fiona Onsanya said radicalisation was an ever-present problem.
"Islamophobia is a real thing everywhere and anyone can be radicalised irrespective of race or religion," she said.
Source:
https://www.bbc.com/news/uk-england-cambridgeshire-44916002