Demonetisation caused little disruption to Maoist economy in Bastar, extortion major source of funding
Editor's Note: In April this year, Union Home Ministry removed 44 districts from the list of those affected by Left Wing Extremism (LWE), indicating a shrinking of the area of Maoist influence in the country. This is the result of a multi-pronged strategy that includes an offensive security and sustained development to wean away the locals from Maoist ideology. However, this is not the end of Maoist supremacy in the Red Corridor. The danger is very much lurking in the jungles, beaten, bruised and ready for retaliation. The bigger challenge for the administration is to enter the Maoist stronghold and carry out development right under the nose of the extremists. So, what exactly is the situation on the ground? Debobrat Ghose of Firstpost takes a trip through the Dandakaranya forests in the Maoist-hotbed of Bastar division of Chhattisgarh — one of the most badly affected regions by LWE and site of some of the deadliest attacks on the state by Maoists — to see the changes that have reached some villages, how willing are the villagers in embracing those changes, the immense risk state administration and security forces personnel undertake daily to effect those changes, all in the shadow of the Maoists who are far from finished.
Hitting the nail on its head, Union home minister Rajnath Singh had said in a meeting in May last year that choking the financial resources was the 'most basic mantra' in the fight against Maoists.
The meeting was held in New Delhi two weeks after an ambush in Sukma district, Chhattisgarh, in which 25 paramilitary personnel were killed.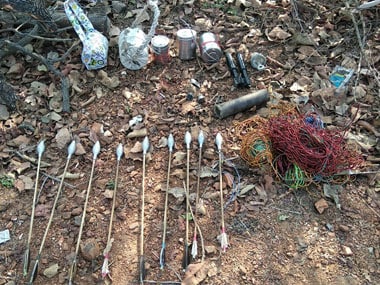 Maoist weapons mortars, rocket launcher shells, IEDs, tiffin box bombs, detonators etc. Firstpost/Debobrat Ghose
An ambush of that scale could not have been the handiwork of amateurs. It must have required proper planning that had the precision of a military strategy, supported by adequate funds to execute plans of such a scale.
So, who is funding the Maoists or what keeps their economy going?
This question has been bothering both the government and security agencies operating in Naxal-infested regions in the country for quite some time.
With the announcement of demonetisation on 8 November 2016, it was anticipated that the move would break the spine of the Maoist economy, but not much could be achieved.
To tackle the problem head-on and to choke funding sources of Naxals, the Centre has set up a multi-disciplinary action group comprising officers from various central agencies and police departments of Naxal-affected states. Headed by an additional secretary of the home ministry, the group has representatives from Intelligence Bureau, Enforcement Directorate (ED), Directorate of Revenue Intelligence, National Investigation Agency (NIA), Central Bureau of Investigation and Central Board of Direct Taxes. In addition, CID and state intelligence departments are also members of the group.
"Special Intelligence Branch is closely monitoring the activities and funding sources of the Maoists in the state and is in touch with the Centre. We've seized bank accounts of suspected Naxals. In Jharkhand, we've seen cases where Maoist leaders siphoned off money for their personal use. Their families are leading a very comfortable life in big cities and children are studying in reputed colleges either in India or abroad," DM Awasthi, chief, anti-Naxal operations, Chhattisgarh Police told Firstpost.
Awasthi was referring to a few Maoist leaders of Jharkhand-Bihar special area committee of the CPI (Maoist) like Pradyuman Sharma, Sandeep Yadav and Arvind Yadav. While Sharma had paid Rs 22 lakh donation to get admission for his niece in a private medical college, Arvind paid Rs 12 lakh for his brother's admission in a private engineering college. The ED had registered cases against these individuals under the Prevention of Money Laundering Act, attached properties worth Rs 1.5 crore and 32 acres land, seized Rs 2.45 crore in cash, including Rs 1 crore during demonetisation.
"Extortion from tendu leaf business to road construction is a major source of funds for the Maoists. Ideology has long been lost and this has become a business for them. The estimated size of the Maoist economy is Rs 200-300 crore in Bastar," said Awasthi.
Fund generating sources
A surrendered Maoist, interviewed by Firstpost, revealed that besides taking money from villagers, labourers and tendu leaf pluckers as a 'levy' – often known as 'protection money', a significant chunk of funds comes from extortion from road and mining contractors, stone quarry operators, transporters and industries operating in Naxal-affected districts.
Development and extortion form a vicious cycle. As the government has been aggressively building roads under the Pradhan Mantri Gram Sadak Yojna and Road Requirement Plan (RRP) in Left Wing Extremism (LWE) affected areas, it has become a big source of income for the Maoist cadres. The roads under the RRP connect heavily affected areas like Dantewada to Sukma or Bastar to Narayanpur, etc. The frontal organisations of Maoists extort a huge sum of money from contractors, sub-contractors and labourers both as a levy and protection fee. Usually, the armed cadre — People's Liberation Guerrilla Army — stay away from interacting directly with the contractors on this matter.
"The members of CPI (Maoist) and its frontal bodies visit villages under their control and take Rs 100 from every person annually. Besides this, they take Rs 100 each from tendu leaf pluckers, labourers and also from road construction labourers and workers who join as new entrants. But the major source of funding is in the form of extortion from contractors and transporters working in road construction and mining sector, stone quarry operators and industries. Now it has become a business for the Maoist party,"
the surrendered Maoist told Firstpost in an exclusive interview
.
The whole cycle is self-defeating in a way, as explained by a local journalist who wished to remain anonymous. "Contractors quote a higher sum to the government to build roads in this region because of the protection money they have to give to the Maoists and the inherent risks involved. So, in a way, a part of the Maoist funding is coming via the government inadvertently."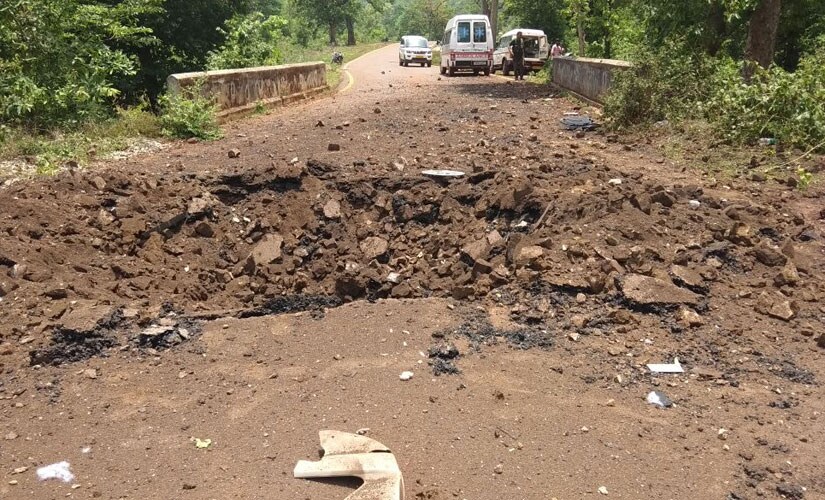 "Maoists also know that in road construction work, government officials also take commissions from contractors to release payments. Recently, the contractors went on a strike demanding the release of their payments. In such situations, the Maoists don't lose an opportunity to make money out of road construction by using threats and blowing up roads. It's a vicious cycle," the journalist said.
Forest produce and timber are other major sources of income for the Maoists in Bastar. Instances abound of Maoists deciding on who should be awarded the contract for tendu leaf collection and forest produce.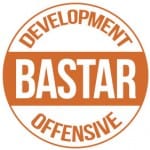 "It is estimated that the Maoists might be extorting anywhere between Rs 140 crore to Rs 160 crore annually from a variety of sources. These sources include government works and schemes, industry and businesses, social institutions, infrastructure, people, membership fees, supporters and sympathisers, revolutionary taxes in cash and kind, etc.," PV Ramana, a research fellow at Institute for Defence Studies and Analysis,
mentioned in one of his papers
.
Impact of note ban
According to the figures provided by the Chhattisgarh Police, after the announcement of demonetisation, a total of Rs 1.60 crore worth of banned currency notes (of Rs 1,000 and Rs 500 denomination) were recovered from the seven Naxal-infested districts of Bastar division.
But while the common villagers had faced the heat of note ban, the demonetisation move didn't have much effect on Naxals.
"The Maoists got their banned currency notes of Rs 1,000 and Rs 500 exchanged through contractors during the note ban," said Awasthi.
Given the estimated size of the Maoist economy in Bastar, the recovery of illegal cash was comparatively small.
"We expected to seize a bigger amount during the note ban period, but the Naxals got banned notes exchanged. There's a nexus between the Maoists and some contractors and traders. This helps the ultras to channelise their funds," a Chhattisgarh government source said on condition of anonymity.
However, the Inspector General of Police (Bastar range), Vivekananda said that demonetisation had definitely caused a dent in the way Naxals spend money.
"We monitored the rural banks and seized large sums of money. We recovered unused cash in the form of banned notes from hideouts. Besides contractors, the Maoists also used villagers to get their banned notes exchanged," the IG said.
Arms and ammunition
The intelligence sources said that besides regular expenditures on maintaining the cadre and armed battalion, running a parallel government (Janatana Sarkar) and on propaganda, a major portion of the fund is used in procuring arms, ammunition and explosives, and on developing improvised weapons. A small portion goes in the development of the area under their jurisdiction to keep the villagers glued to their ideology.
"Besides a wooden printing press, the Maoists also have engineering units inside jungles in their 'liberated zones', where they manufacture improvised weapons and explosive devices. They have engineers and technicians in their committee," an intelligence agency official said.
According to Chhattisgarh Police sources, the Maoists in Dandakaranya possess a large inventory of explosives, most of which have either been looted or procured from mines through contractors by using threats. Same is with the case of sophisticated weapons, which the Naxals loot after killing or injuring security personnel.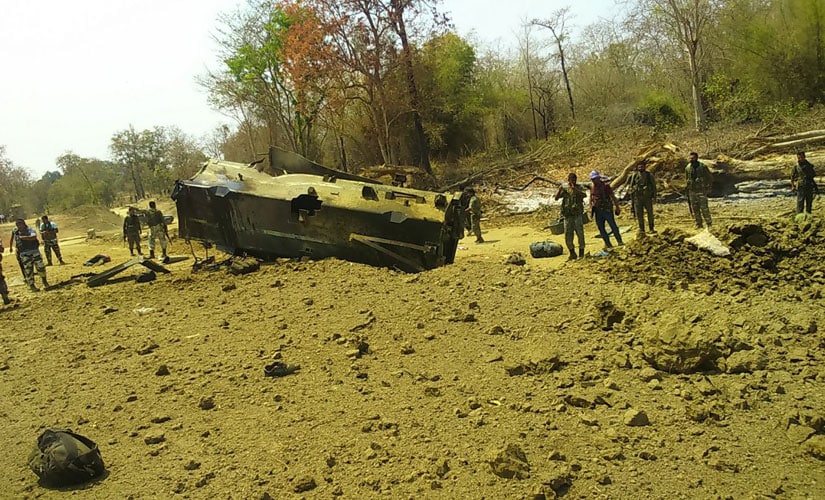 According to sources in the CRPF and Chhattisgarh Police, the Maoists operating in Bastar now have 15 to 16 Under Barrel Grenade Launchers (UBGL) in their possession, which have given more teeth to the armed cadre of the Left ultras and made them deadlier.
According to sources, the arms and ammunition possessed by the PLGA in Bastar are SLR, INSAS assault rifle, INSAS light machine gun, AK-47, German made pistols, hand grenades, rocket launcher, UBGL, improvised weapons, and explosive-tipped arrows. The IEDs are made by using mining explosives like ammonium nitrate, gelatine sticks, detonators, etc. Police sources confirmed that the Maoist cadres also have bullet-proof jackets, binoculars, wireless sets, etc. in their possession, most of which are looted.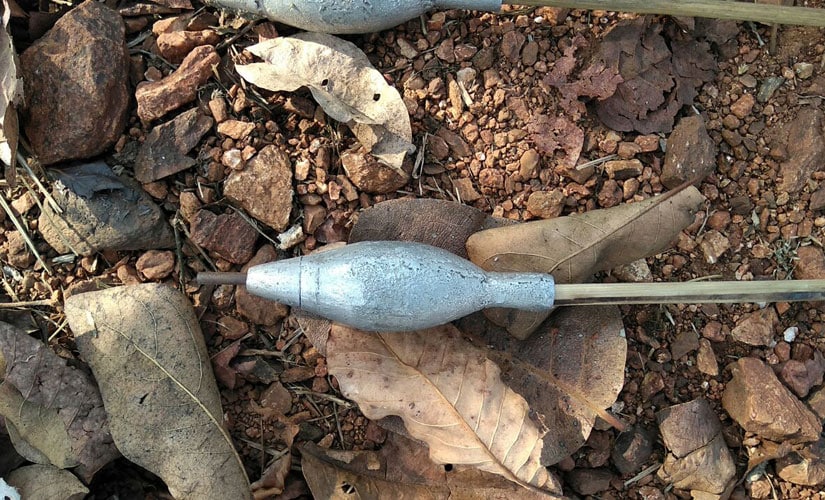 The Rambo-styled explosive-tipped arrows are a unique improvised weapon being used by Naxals in Bastar region to target security forces. Though Maoists have been using these arrows for quite some time, they
came to the limelight during the Maoist attack
at Kottacheru in Sukma district in which 12 CRPF jawans got killed on 11 March 2017.
Besides looting, the Maoists also procure weapons from the grey market. According to intelligence agencies, central paramilitary forces and state police sources, the Maoists also procure arms from North East-based insurgency groups.
Police sources claimed that a clampdown on the funding sources of Naxals in various ways has dented their economy, unlike in the past when procuring weapons had been easier for them.
Various documents including the exchange of letters between the members of the cadre or a note from a Maoist leader to squad members, seized by the police during operations from the camps or from the Naxals killed during an encounter, revealed a crisis of funds within the organisation.
In one of the letters accessed by Firstpost, a member of the armed cadre wrote, "Due to strong action by the 'enemy' (police) against us, there's a severe cash crunch. Survival and continuing with our Nav Janvadi Kranti (neo-people's revolution) have become difficult at present. For the time being, we all have to survive on meagre resources available with us, till things improve."
However the quantum of impact due to demonetisation and government's measures to choke the flow of funds to Maoists is yet to be known, as peeping into the dark world of Naxals inside deep jungles of Dandakaranya in Bastar is not an easy task for the establishment.
Next up: To know more about the functioning of the ultras and the extent of Maoist menace in the state and about anti-Naxal measures undertaken by Chhattisgarh Police, I decided to meet the chief of anti-Naxal operations (Chhattisgarh Police) DM Awasthi.
Source:
https://www.firstpost.com/india/demonetisation-caused-little-disruption-to-maoist-economy-in-bastar-extortion-remains-major-source-of-funding-4831321.html