Communist rebels OK 3-month postponement of peace talks
The National Democratic Front says in a statement on Thursday, June 21, that it agrees 'to continue peace negotiations and to overcome obstacles and impediments'
Published 8:31 AM, June 21, 2018
Updated 1:23 PM, June 21, 2018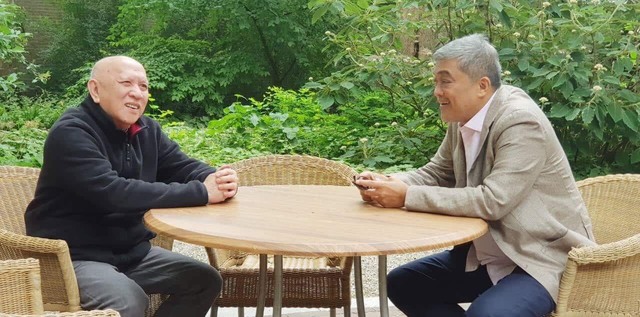 ALL SMILES. Government negotiator Hernani Braganza flies to Utrecht to formally relay President Rodrigo Duterte's adjustments to the timeline of talks. Photos released by government panel
The NDF released a statement on Thursday, June 21, saying it agrees "to continue peace negotiations and to overcome obstacles and impediments."
"The NDF team listened to the explanation of the GRP (government) team on the reasons for postponing the resumption of the formal talks and agreed that the peace negotiations continue despite the cancellation of the scheduled formal talks in Oslo on June 28 to 30," the NDF said.
The statement came after a 3-day meeting with government negotiator Hernani Braganza, who flew to Utrecht in the Netherlands to formally relay and discuss government decision to cancel the scheduled June 28 resumption of the 5th round of talks in Norway.
The NDF represents communist rebels in talks to end Asia's longest-running communist insurgency. Agreements aim at instituting land reform and national industrialization programs to address the root causes of the armed struggle.
"The two sides expressed their commitment to protect and preserve the gains that had been achieved in the 4 rounds of informal talks that produced documents containing important agreements to move the process forward," the NDF said.
All backchannel talks are also suspended during the 3-month period.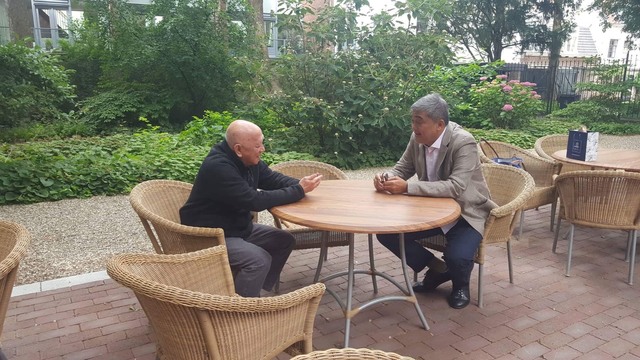 UTRECHT MEETING. Government negotiator Hernani Braganza flies to Utrecht to formally relay and discuss President Rodrigo Duterte's latest decisions on the peace talks. Photos released by government panel
Talks need 'foreign neutral venue'
"We extended the government panel's appreciation to the NDF's open-mindedness in coming to terms with President Duterte's decision," Braganza said.
NDF chief political consultant and Communist Party of the Philippines founding chairman Jose Maria Sison and Norwegian Special Envoy Idun Tvedt were also present in Utrecht, although they were not shown in the photographs released.
Braganza said the NDF also reiterated commitment to an agreement that details a planned visit of Sison to the Philippines for a meeting with Duterte. But the NDF said the rest of the talks need "foreign neutral venue" – a rejection of a
push to hold talks in the Philippines
.
"The role of the TPF is of key importance while there is need to hold formal peace negotiations in a foreign neutral venue in compliance with the pertinent provision in the Joint Agreement on Safety and Immunity Guarantees (JASIG)," the NDF said.
"The two sides must comply with JASIG and its provision for a foreign neutral venue, consistent with the general practice of warring parties to negotiate peace outside of their country or their respective territories," the NDF said.
Both sides are mulling joint efforts to hold public consultations to promote the talks.
"It is our fervent hope that the consultations will help galvanize public support to peace efforts aimed at ending the armed conflict through the achievement of economic, social and political reforms," Braganza said. –
Rappler.com
Source:
https://www.rappler.com/nation/205409-ndf-statement-duterte-postponement-peace-talks