Isis propaganda websites attacked by international security services but group continues to reach followers
Isis
' propaganda machine has been hit by an unprecedented multinational cyber campaign, but the terrorist group is still managing to reach thousands of its followers.
British security services were involved in the assault targeting websites hosting its flagship Amaq "news agency", alongside allies in the EU, US and Canada.
Europol
said Islamist group's ability to broadcast and publicise terrorist material has been "compromised" by a mix of cooperation with internet service providers and cyber attacks.
Security services are also working to identify Isis administrators and radicalised individuals across Europe and beyond with the data retrieved.
In the third phase of an operation started in 2015, law enforcement agencies coordinated by the European Counter Terrorism Centre (ECTC) started a two-day "simultaneous multinational takedown" on Wednesday.
Isis servers were seized in the Netherlands, Canada and the US, while raids were conducted in Bulgaria, France and Romania as the UK targeted its domains.
As well as Amaq, which publishes propaganda reports on Isis activity and claims for international terror attacks, Europol said Isis' al-Bayan radio, Halummu and Nashir news websites were also hit.
It came after an operation that took down Amaq's mobile app in August 2016 and strike targeting online infrastructure that was later rebuilt in June last year.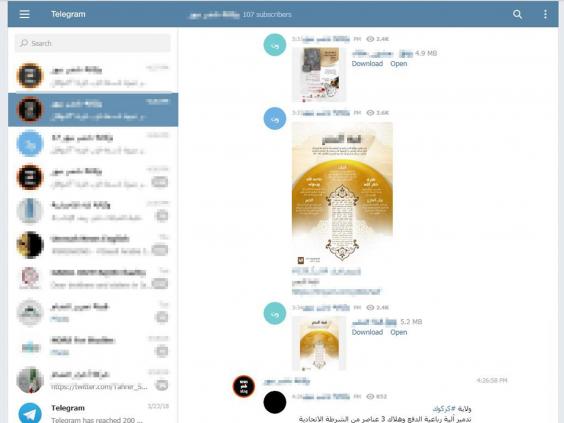 "With this ground-breaking operation we have punched a big hole in the capability of Isis to spread propaganda online and radicalise young people in Europe,"
Rob Wainwright, the executive director of Europol, said.
European Commissioner Dimitris Avramopoulos vowed that the operations "will not stop until their propaganda is entirely eradicated from the internet".
But the latest operations have not interrupted Isis' prolific output on the encrypted messaging app Telegram.
The group has continued to publish propaganda including gory images of executions, statements on attacks in countries including Syria, Afghanistan and Somalia, a lengthy video on battles in
Damascus
and its weekly
al-Naba
newsletter to followers.
Messages posted on its official
Telegram
feeds had been viewed more than 2,000 times in little over an hour on Friday afternoon.
But instead of posting links to its own websites, Isis has been forced to use other hosting platforms and file sharing sites following the Europol operation.
Charlie Winter, a senior research fellow at the International Centre for the Study of Radicalisation and Political Violence (ICSR) at King's College London said permanent damage to the Amaq website could have a "substantial strategic impact".
"The website was a living archive of Isis propaganda and there's no equivalent," he told The Independent. "Given that at this point in time the group is maniacally trying to curate its post-territorial legacy, it really could do with access to all of those materials."
Mr Winter said the full result would not be clear for several months, but warned that propaganda is only one factor that draws potential terrorists towards Isis, alongside extremists' social networks and life experiences.
"Propaganda is important but it isn't and never has been the be-all and end-all of recruitment," he added. "Takedown operations will impact on it but it's not a solution."
He cautioned that while the vast majority of Isis' former territory in Syria and Iraq had been retaken, it has gained ideological notoriety around the world and has a powerful impact.
When Isis declared its "caliphate" in early 2014, it was openly publishing propaganda on mainstream social networks and open websites, while many foreign fighters became notorious for
documenting their lives on Twitter
and
blogs
.
The size and complexity of Isis' propaganda network is unprecedented, seeing material published in almost a dozen languages across websites, social media, automated emails, dedicated apps and extensions for internet browsers.
Increased detection and removal work by both governments and hacktivists has since pushed it into ever more obscure corners of the internet, with the Amaq website being taken down and reappearing on an almost daily basis even before Europol's attack.
The head of GCHQ revealed that British spies have been disrupting Isis' communication networks and propaganda earlier this month, hinting that it could be behind a glut of fake propaganda that unnerved the group last year.
But much of the propaganda previously published, including English-language magazines containing advice on vehicle and knife attacks, remain in circulation online and the van attack that left 10 victims dead in Toronto this week shows how Isis' modus operandi has spread.
Source:
https://www.independent.co.uk/news/uk/home-news/isis-islamic-state-propaganda-cyber-attack-europol-telegram-terror-attacks-amaq-a8325976.html