After Charlottesville: how a slew of lawsuits pin down the far right
Far-right leaders are 'under attack' as lawsuits are filed over the death of Heather Heyer, Sandy Hook conspiracies and more
"I think she was killed right around where those people are talking," she says, pointing to a spot beside a redbrick wall on which fresh tributes are regularly chalked.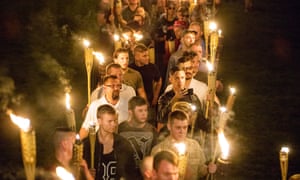 Donald Trump insisted there were "some very fine people on both sides".
'I'm under attack'
Pleading for donations to cover his legal costs, Spencer added: "Lawfare like this will not stop with Charlottesville. Our adversaries don't just want to stop large public rallies; they will likely ultimately go after any expression of white identity, or really any expression that challenges hegemonic discourse."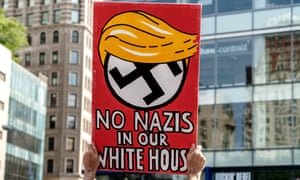 The offensive in the courts has benefits and risks, Cassino said. "It makes it easy to drain the resources of the biggest alt-right groups and celebrities and makes it difficult for them to do their jobs, ties them up for years and makes their lives miserable.
"But it also fragments their base: they will go back to 50 such groups and, the more groups you have, the harder it is to keep track of who's doing what. When you have 50 groups marching in hoods, you don't know who's responsible for anything. We believe that fragmentation breeds extremism. Each group competes to be more extreme and that's dangerous for all of us."
Holt added: "They're definitely on their heels at the moment. They have had a very hard time engaging in this never-ending purity spiral in the movement, trying to decide who's in and who's out. It's incredibly vulnerable right now."
But like Cassino, he cautioned that the legal approach alone will not address the underlying causes. "You can't sue an ideology. These views don't go away when the person does. I think they'll just find a new home: there'll be new podcasts and new websites that come up. Someone will come in and fill the void."
'It's not going to go away'
But Mosley, real name Elliot Kline, who now claims to have quit the far right, added: "It's not going to go away. The same pressures that created the alt-right have got worse. When people hear President Trump call MS-13 'animals', over half the country agrees with him and the rest can't believe anyone would say that. The country is going to keep getting more and more divided."
The 43-year-old, based in Detroit, warned: "If they try to drive out certain leaders, you may have more irresponsible people stepping up. We're trying to do things the legal way here. If the system takes that away from the white nationalist movement, I'm not saying it's going drive people to become more radical but you can put two and two together. It's an open question."
"I became a household name, a kind of icon," he said. "And then the establishment started to attack."
"I've been spending more time on the lawsuit than I have been writing so in a way, yes, that's a victory. But this is round three of the heavyweight bout. The story isn't over. The whole question is can we come through this and be stronger and have learned lessons and have built better institutions so on, so that's really the challenge."
'Do not ignore them, do not take them lightly'
Susan Bro, who found Mother's Day excruciatingly hard this year – "I cried" – offered a brisk dismissal of Spencer.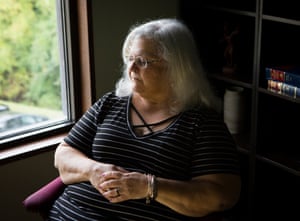 "He likes to play the victim," she said, as the sun beat down on the Lee statue in Emancipation Park. "He's a manipulator. He's a shyster and he very much seems to enjoy controlling other people and their opinions and getting people to dance the way he wants them to dance. I have no sympathy for him."
She warned that, while lawsuits can stunt the growth of hate groups, they are no magic bullet.
"I think they're just going underground temporarily to take the heat off and then they're never really going away, they're just gone into hiding. They have a well developed and well displayed tactic of looking like they're retreating, looking like they are leaving an area and that's when they attack. So I say do not ignore them, do not take them lightly.
The following day, Roberta Kaplan, the attorney, drove down 4th Street on her way to court. It was a beautiful morning and the juxtaposition was sharp.
"It feels kind of topsy turvy," she said later in conference call. "On the one hand, life goes on and there's sunshine and people eating ice cream cones and, on the other hand, we were heading to court to talk about a conspiracy that led to one person's murder and the very severe injuries of our plaintiffs.
"I guess it's part of human nature to kind of live with those inconsistencies."
Source:
https://www.theguardian.com/world/2018/may/29/charlottesville-lawsuits-heather-heyer-richard-spencer-alt-right