Immigration, fake news and terror: Rushdie and experts on a dangerous moment for the US


In event hosted by the Ethics Centre and sponsored by the Guardian, the author joined analysts and academics to discuss key issues in Trump's America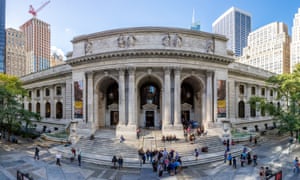 Activists, political analysts and writers including the author Salman Rushdie, foreign policy expert Anne-Marie Slaughter and Columbia University president Lee Bollinger appeared in New York on Saturday, at an event that aimed to look past partisan squabbling over immigration, "fake news" and the threat of terrorism.
The event,
A Dangerous Moment: Shades of Red and Blue
, was hosted by the The Ethics Centre, an Australian organization, and sponsored by the Guardian. In a series of discussions at the New York Public Library on 42nd Street, speakers addressed the rise of Donald Trump and the divided country he now leads.
Here's a rundown of how the day's panels panned out:
The State of the Union: Watergate or witch-hunt?
"It's not really known what Trump is doing," said Dean. "It's very Nixonian."
In contrast to
the era of Watergate
, Dean said, the New York Times and the Washington Post are in battle with each other, a situation which encourages good reporting and close coverage of the Trump administration.
Podhoretz said that in the early 1970s, the church would speak out on moral issues facing the government and people. It would have criticized a candidate like Trump, he said, because of his multiple marriages and comments about women. "Those institutions no longer have the moral veto they once did," he said.
Podhoretz added that an issue facing Trump as president is that "it's clear he didn't want the job".
"Nixon wanted to be president but he hated campaigning," said Hertzberg. "Just the opposite from Trump."
The Problem with Strangers
Trump's travel ban and attitudes towards immigrants as terrorists dominated a conversation between Jamil Dakwar, director of the American Civil Liberties Union human rights program; Oz Sultan, a strategist at Big Data and a Republican Muslim-American; Sana Mustafa, a 25-year-old Syrian who moved to the US after she was imprisoned by the Assad regime; and Yael Eisenstat, a diplomat and national security advisor to former vice-president Joe Biden.
Sultan spoke in favor of Trump's attempts at curtailing Muslim immigration and refugees through tighter vetting and a focus on national security, saying that though such moves were "a little wonky, a little cumbersome … I think the policy will find its way through".
As someone who has gone through the refugee visa process, Mustafa criticized Sultan. "We are vetted a lot," she said, noting it would be impossible to ask the Assad regime if she had been a "good citizen" because "I protested that government".
She also said her 16-year-old sister had gone through three and a half years of security screening, including interviews that went on for nine hours, and had recently been rejected for a US visa, even though she had used the same evidence and argument for refugee status that secured a visa for Mustafa. "This is a discriminatory order," she said, referring to the travel ban.
Eisenstat in turn questioned the logic of Trump's travel bans because "I want to base everything on fact". She added that "the vast majority of international leaders say banning people from these countries is not going to help our national security", because such a ban would not be created because of any specific threat from those countries.
Eisenstat said she believed
Trump's laptop and electronic ban
came directly from intelligence information that revealed a risk of bombs being hidden in laptop computers. "No doubt in my mind," she said.
Dakwar, a Palestinian Israeli, spoke about the risk of increased deportations of undocumented immigrants by Immigration and Customs agents, which, she said, were "just going to make this country worse".
"It's not just about the labor force," she said, "it's about how people feel, how they relate to each other in this country."
Global Security
This panel was made up by Slaughter, CEO of New America, a foreign policy thinktank; Thomas M Nichols, professor of national security affairs at the US Naval War College; Elmira Bayrasli, cofounder of thinktank startup Foreign Policy Interrupted; and Walter Russell Mead, professor of foreign affairs at Bard College. It focused heavily on American issues, particularly in light of the election.
"There's no longer division between foreign and national politics," said Slaughter, who said she had cancelled four planned trips to Europe since the election. "Why am I spending my time talking to people like me in watering holes in Europe, rather than reading about or traveling in this country?" she asked.
The most educated Americans are not encouraged to move to declining manufacturing towns or rural areas in order to help them, Mead said, because "the elites have stopped teaching that kind of patriotism". He added that he supports some protectionist trade laws.
Regarding the rise of extremist Islamic terrorism, Slaughter said the US needed to change its mentality that it alone can end it.
"I don't think we're going to defeat them," she said.
"The way we triumph is endure," replied Nichols.
Race, religion and immigration
The pros and cons of affirmative action – and the impact race and religion have on a person's individual experience – dominated the conversation between Jelani Cobb, a staff writer at the New Yorker; Bollinger of Columbia University; Paola Mendoza, artistic director for
the Women's March on Washington;
and the writer Derryck Green.
Green argued against affirmative action, which he believes halts growth by offering a "false safety net". If a black doctor was available to perform surgery, he said, people wouldn't want to pick him or her out of fear he or she was only in the job because of affirmative action.
"It just has a very negative way of stigmatizing black achievement and accomplishment," he said.
But that, said Cobb, was the problem. "What if that doctor were white … why is the white person not stigmatized?"
Asian students, Cobb said, generally outperform white students but that does not make us look negatively upon white students and question their upbringing.
Bollinger said at Columbia, African-American students are the very "top top" in quality – but people presume they are there because of affirmative action. "The stigma is the result of racism," he said.
The Women's March didn't just focus on "women's" issue such as reproductive rights, said Mendoza, but its organisers found that "pushback was very severe because people want women in this moment of time to be put in a box".
"You can't make me choose between being an immigrant and being a woman, or being a Muslim and being a woman," she said. "I am the one and the same and I can't choose."
Muslims in America often have to renounce acts of terror even though the only connection between them and the terrorist is a shared religion, Cobb said. After the
Pulse nightclub shooting in Orlando last June
, in which 49 people were killed, Donald Trump tweeted about "radical Islamic terrorism".
"He's also from Queens," Cobb said of the gunman. "As is
Donald Trump
. As am I."
Fake News, free speech and the media
Distrust of the media because of its political coverage during the campaign was the hot topic between Rushdie; president of Bard College Leon Botstein; Lachlan Markay, a White House reporter for the Daily Beast; MZ Hemingway, a senior editor at the Federalist; and the Washington Free Beacon's editor-in-chief, Matthew Continetti.
"Through this campaign year, the media was openly oppositional," said Hemingway. "The media were not sceptical of Obama for eight years. Now they want to do journalism now Trump is president."
Except, said Botstein, "you don't expect the leader of a country to lie in such a bold faced manner". He noted that retractions, fact checks or clarifications do not get as much traction with the reading and watching public as the original lie.
Partly that's because people want to exist in their own ideological bubble, Markay said, adding: "I live in Washington DC and everyone has an opinion and everyone thinks they're right, and no one cares about your opinion."
Rushdie pointed out the meaning of the term "fake news" has changed, from "malicious stuff on the internet deliberately put there by Russians, specifically targeting Bernie Sanders voters in order to detach them from Hillary" to the White House using the term, "flipping it and accusing its … opponents in the mainstream media of being liars".
Facebook is trying to stop the proliferation of fake news, noted Continetti, by trying to fact check stories and change its algorithm accordingly. But tech companies are not journalistic organizations.
"At the end of the day, they're also looking to make a buck," he said.
There was also a discussion about the "liberal elite". Instead of using the word "elite" to refer to journalists, Rushdie said, "the term elite should apply to a government of billionaires".
Since you're here …
… we've got a small favour to ask. More people are reading the Guardian than ever, but far fewer are paying for it. Advertising revenues across the media are falling fast. And
unlike many news organisations, we haven't put up a paywall – we want to keep our journalism as open as we can
. So you can see why we need to ask for your help. The Guardian's independent, investigative journalism takes a lot of time, money and hard work to produce. But we do it because we believe our perspective matters – because it might well be your perspective, too.
If everyone who reads our reporting, who likes it, helps to support it, our future would be much more secure.
Source https://www.theguardian.com/us-news/2017/apr/02/activists-authors-analysts-dangerous-moment-new-york