Brussels to unveil terror victims' memorial one year after attacks in city
Brussels to unveil terror victims' memorial one year after attacks in city
Sculpture will be inaugurated in ceremony marking first anniversary while 'minute of noise' will be held on metro system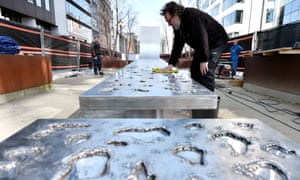 A memorial to the victims of terrorism will be unveiled in Brussels on the first anniversary of the attacks that killed 32 people and injured more than 320.
"Wounded but still standing in the face of the unthinkable" is the name of the memorial sculpture, a pair of stainless steel slabs bending to the sky in a gesture of hope.
The Brussels-born sculptor Jean-Henri Compère said he wanted the work to evoke hope and pay tribute to public resilience in the face of the attacks.
The day will begin with a ceremony at Brussels airport, where a one-minute silence at 7.58am will mark the moment the first explosion ripped through the departure terminal. The next event will take place at Maelbeek metro station, where a bomb exploded at 9.11am.
Instead of silence, the Brussels public transport authority, known by its French acronym Stib, has called on the travelling public to join staff in "a minute of noise to show that we have not forgotten but remain standing against hate and terror". The entire metro network will stop for one minute and passengers are invited to applaud.
One year on from the worst violence on Belgian soil since the end of the first world war, the country is still coming to terms with the attacks. The prime minister, Charles Michel, said at the weekend that authorities could have done a better job in providing support to some of the victims, amid concern about patchy follow-on care for people with severe, life-changing injuries.
"In a certain number of cases there has not been enough proactivity, individualised follow-up of the victims," he told public broadcaster RTBF. Michel said he had felt "shaken" after a recent meeting with victims' families and urged insurance companies to speed up compensation payments.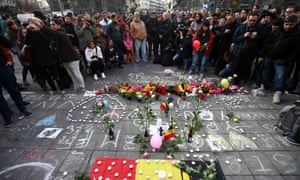 He said Belgium had been changed by the attacks, which had made the country more vigilant. "It happened and it can happen again," he said. Soldiers in army fatigues carrying guns continue to patrol streets and metro stations, guard embassies and public buildings.
The lower parts of the sculpture that sit on the ground are pitted with holes and marks intended to evoke the violence of terrorist attacks. The surface becomes smooth again as the steel bends to the sky. "The stainless steel is wounded, crushed [and] when you walk along those marks disappear," Compère told the Guardian.
The shiny material is also intended to reflect the weather and mood of the passing seasons. "I want this sculpture to be a reflection of what people feel and the weather will help me to do that. When it rains, it reflects tears. [When it is] just grey, sadness. When the sun is shining, there is hope and pleasant thoughts about the wounded and those who are not there."
Source https://www.theguardian.com/world/2017/mar/22/brussels-unveil-terror-victims-memorial-one-year-after-attacks