Geert Wilders: Dutch far-right leader criticised for calling Moroccans 'scum'


Muslim organisations in the Netherlands call Freedom party leader's comments at campaign rally 'reprehensible'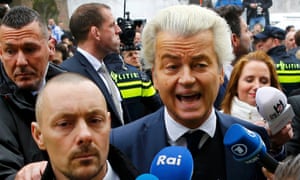 Muslim groups in the Netherlands have criticised disparaging comments about Moroccans made by the far-right leader Geert Wilders during a campaign rally.
"If a Dutch person driving in a car drives five miles too fast he will be fined within a minute, whereas the Moroccan scum in Holland – once again, not all are scum, but there is a lot of Moroccan scum in Holland who make the streets unsafe, mostly young people and they are not taken seriously," the anti-Islam politician said at his first campaign event in the blue-collar town of Spijkenisse near Rotterdam.
Ebubekir Ozture, director of the Muslim umbrella group Contact Organ Muslims and Government, on Sunday said those comments were reprehensible but added that Moroccans and Muslims were accustomed to such outbursts from Wilders, whose Freedom party (PVV) is riding high in opinion polls less than a month from the election.
"It is not the first time and probably won't be the last time" that Wilders has used such language, Ozture said. "He has said worse things about Moroccans and Muslims. As crazy as it sounds, people are a bit used to it from him."
Wilders has a long history of criticising Islam and Moroccans, whom he has said were responsible for a disproportionate amount of street crime in the Netherlands. His one-page election manifesto is strongly anti-Islam, vowing to ban the Qur'an, shut the country's mosques and halt all immigration from Muslim-majority countries.
Abdou Menebhi, of the Euro-Mediterranean Centre for Migration and Development said he expected similar comments from the politician in the future. Menebhi filed one of the many complaints that led to Wilders' prosecution last year.
"Wilders is not going to stop," he said. "He is still spreading hate and discriminating against Moroccans and Muslims."