Emmanuel Macron vows aggressive fight against far right on UK visit


Centrist candidate for French presidency says he will learn from mistakes of Hillary Clinton and UK's remain campaign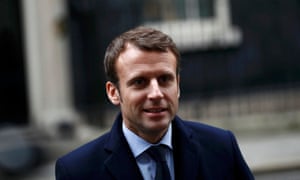 Emmanuel Macron, the centrist candidate for the French presidency, has vowed his campaign will learn from the mistakes of David Cameron's Brexit and Hillary Clinton's failed election campaign by being boldly pro-liberal and pro-Europe.
Speaking after a meeting with Theresa May in Downing Street on Tuesday, Macron defended his decision to be unambiguous in his views as he fights a campaign against the far-right's Marine Le Pen, saying: "In the current environment, if you are shy, you are dead."
He added: "In the current environment, when extremes and anti-globalisation win elections, that is probably the best moment for France to decide to do the opposite."
The 39-year-old, who was in London for what is by now a familiar pre-election campaign stop-off for a French presidential candidate, risked irritating his hosts by reiterating his warning that the Le Touquet agreement covering Anglo-French cooperation over migrants at Calais would have to be rethought.
"As for security and immigration, I have been extremely consistent that post-Brexit Le Touquet, if it is not part of the EU package, is something that we will have to reconsider in a very pragmatic way. That is not to say we have to kill the agreement but to consider the fact today it is not a fair relationship and we have to deal with a lot of people on our side waiting for acceptance," he said.
There were few signs that a Macron presidency would mean a friendly Elysée palace for May's government as the Brexit negotiations unfold.
Standing outside 10 Downing Street, he said he wanted "banks, talents, researchers, academics" to move across the Channel after Britain leaves the EU – and that his programmes would include "a series of initiatives to get talented people in research and lots of fields working here to come to France".
The candidate, who describes his platform for the spring elections as "neither left nor right", said Britain should not be able to access the European single market unless it respected the four freedoms, including free movement of labour within the EU.
The former economy minister added there could be no access to the market or financial passporting for the City of London without financial contributions to the EU.
He also became the most senior European politician to say the UK will have to remain subject to rules of the European court of justice (ECJ) in any transition period after the UK has formally left the EU, a proposal that will appal most Tory eurosceptics.
"We need a common judge during this intermediate period and the European court of justice has to deal with the rules," he said.
"Until the very end of the process you are part of the EU and the European court of justice is competent, for sure, or otherwise there is not a judge to respect. This would apply for the transition and the very end of the process."
The British prime minister could have turned down Macron's request for a meeting, and the fact she chose to hold 30 minutes of talks with the candidate shows how seriously Britain is taking the possibility of the centrist winning in the May elections.
Most European observers regard the French poll as the most critical for the future of Europe among the run of possible elections this year in the Netherlands, Italy and Germany.
Macron's London trip and a rally for 3,000 supporters near Westminster due on Tuesday night comes as he attempts to get his campaign back on track after a troubled week.
Polls show Le Pen has an increasingly solid lead in the first round of the presidential election, with Macron slipping back to equal standing with the beleaguered rightwing candidate François Fillon, who is continuing with his campaign despite a preliminary investigation into whether he gave his wife a fake parliamentary job from public funds.
All polls currently show Le Pen will be defeated in the second round. But this week an Opinionway survey for Les Echos, showed the gap in the second-round narrowing – with Macron versus Le Pen on 58% to 42%, and Fillon versus Le Pen on 56% to 44%.
Macron, who does not have a party apparatus behind him, is due to unveil his economic programme at the end of the week and his full manifesto on 2 March just before the start of the formal campaign.
Briefing reporters on Tuesday after his meeting with May, Macron insisted he could win on his open platform, saying French voters did not behave in the same way as other electorates.
He said in many of the recent victories for populism the defenders of the liberal order refused to endorse their principles with sufficient aggression. "David Cameron did not defend remain, actually; they defended 'a yes but', which is not the best way to win against a no - and they lost."
Hillary Clinton's campaign for US president, he added, "had not been very clear, or as clear as Bill Clinton's campaign 15 years ago".
"The French people are ready to move forward and reform themselves. So I think this election is a critical decision in France – do you want to move forward to succeed in an open world with 21stcentury protections or do you want to close frontiers, go back to a 1960s 1970s economy, and stop with Europe and with globalisation. That is a big question mark."
But he insisted: "If you play on a national scale you get killed. It's bullshit to say you can be defended on the national scale. Everybody now needs Europe."
He defended his comments last week in which he had stirred controversy by saying France had committed human rights abuses in Algeria. "We all have to think very carefully and with a lot of lucidity look at our colonial past, without opening a Pandora's box," he said.
The view from London
The British capital has become a compulsory campaign stop for French presidential candidates seeking to boost their international credentials and court the growing ex-pat vote.
London is home to around 300,000 of the 400,000 French people in Britain, a population large enough to be considered politically as France's sixth biggest city. It was Nicolas Sarkozy who 10 years ago began the trend for presidential campaign rallies in what was quickly called "Paris-on-Thames", staging a London rally urging expats to come home, saying: "France is still your country even if you're disappointed by it."
At Macron's rally at Methodist Central Hall near Westminster, EU flags had been laid out for supporters. Many French people in the crowd – from students to pensioners – said they were worried about the future for European citizens in the UK after Britain's vote to leave.
Beatrice, 69, a former languages teacher and further education college head, who has lived in England for more than 40 years, had come out of curiosity. She was considering a Macron vote simply as a default "simply because it has become more and more difficult to vote for anyone else". She felt the rightwing Fillon was tarnished and rendered "unelectable" by the accusations that he paid his wife from public funds for an alleged fake job as a parliamentary assistant, and on the left, Benoît Hamon, was "too much of a dreamer".
She feared Le Pen's strong position: "After Brexit and Trump's election, it feels like anything is possible." Macron's "youth and energy" was a plus point, but she said: "He needs to set out his policies."
Gerald Sigrist, 23, a student in war studies at Kings College London, originally from near Nice, supported Fillon but was open to voting Macron, "if he proves he can be presidential".
While Macron was visiting Downing Street, an engineer in his 30s from near Marseille stopped to behold the camera crews. With five years of higher education, a stable job at a major firm, sharply dressed and on a weekend break to London, he might have fitted the stereotype of a Macron supporter. "No, I'll be voting Marine Le Pen, my mind is made up, nothing will change it," he said. "It's about immigration. We're paying our taxes and other people are benefiting, it's as simple as that."