Syria: ambulances on the move as Aleppo evacuation operation begins


International Committee of the Red Cross says first convoy of ambulances and buses has dropped off wounded people in rebel-held rural area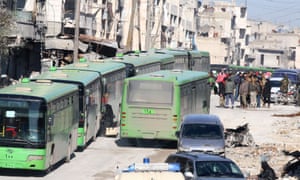 Ambulances and buses have transported wounded people out of besieged districts of east Aleppo to a rebel-held rural area, and are returning to the city to pick up a second group, as a long-awaited evacuation operation got underway.
Thirteen ambulances and 20 buses were involved in the first wave of evacuations, the International Committee of the Red Cross (ICRC) told the Guardian. Footage of a long convoy of ambulances and green buses driving out of the city was broadcast on Syrian state TV.
The vehicles had arrived in rebel-held areas of the city earlier on Thursday, almost five hours after the evacuation was due to begin, when medical teams waited amid reports of gunfire.
About 1,000 people had left in the first convoy, a World Health Organisation official in Syria told Associated Press. The evacuation is being overseen by the Syrian Arab Red Crescent and ICRC, which said it would include the wounded and all civilians.
The UN humanitarian adviser for Syria, Jan Egeland, said the operation was three pronged, involving the evacuation of the sick and wounded, vulnerable civilians, and fighters. "Thousands of people are in need of evacuation, but the first and most urgent thing is wounded, sick and children, including orphans," he said.
Separately, Russia's Tass news agency, citing the Russian defence ministry, said Russia had begun the evacuation of 5,000 Syrian rebels and their family members along a 20km humanitarian corridor.
A teacher in east Aleppo who was waiting to be evacuated said there were mixed feelings among the residents. Some were angry that they were being forced to leave, but others were happy that the violence had stopped.
Some locals were burning their belongings in their homes, he said, so that they were not looted by pro-regime forces when they enter the besieged districts.
A ceasefire deal had gone into effect at 2.30am local time (12.30am GMT) on Thursday. Sources in east Aleppo said shelling in the city had stopped at midnight local time but gunfire was reported on Thursday morning before the ICRC said the evacuation had begun.
The White Helmets civil defence force, which is based in east Aleppo, said one of its members was injured by a sniper while clearing an evacuation route and its ambulances in the enclave had come under small arms fire.
The evacuation deal was agreed late on Wednesday after a day of intense bombardment and shuttle diplomacy following the unravelling of a previous agreement in the face of Iranian opposition. Tens of thousands of civilians who remained trapped in opposition-held areas of the city without food, water or medicine came under a renewed hail of artillery and airstrikes after its collapse.
A spokesperson for Noureddine al-Zinki, one of the armed opposition groups in Aleppo, said the deal would also allow the evacuation of wounded people in Fua and Kefraya, two Shia villages in Idlib province that are besieged by rebels.
Syrian state media said on Thursday that 29 trucks and ambulances were headed to the villages.
Iranian-backed militias spearheaded the ground assault on east Aleppo by forces supporting the Syrian president, Bashar al-Assad, and rampaged through newly reclaimed neighbourhoods in what the UN described as a "meltdown of humanity".
Weeks of immense suffering and violence in eastern Aleppo since the Syrian regime and allies began a final push into territory that had been in rebel hands since 2012 have left residents in total despair and increasingly angry at the international community for abandoning them to their fates.