Iraqis flee ISIS or risk being used as human shield
Baghdad, Iraq (CNN)
Some of the kids peer out shyly from behind the canvas of their tents. A little girl carries a plastic tub as big as she is, her face set in determination, as she walks toward the women washing clothes under the beating sun.
The brightly clothed children are the only flashes of color against the otherwise drab, dusty shades of gray of the refugee camp. Housing people who have fled from ISIS domination in neighboring Anbar province, is situated on what was a parking lot for the local Sunni mosque in a Baghdad neighborhood that has seen more than its share of violence in years past.
Al-Jamiaa, close to the capital's airport, was the scene of fierce fighting as American troops closed in on Baghdad in 2003.
"We, us, the people of this neighborhood, when we had to flee in 2003, the people of Anbar opened their homes to us," says Ramzi Azzawi, an employee of the mosque and now also the refugee camp's manager.
They were able to return to al-Jamiaa, briefly. But between 2005 and 2007 they were displaced again because of sectarian violence and the emergence of al Qaeda in Iraq, ISIS' predecessor. They couldn't go to Anbar because al Qaeda dominated the province at the time, Azzawi says, so the Shia residents of al-Jamiaa -- and most of the Sunni residents, too -- were forced to flee wherever they could.
Hoping to return, but preparing for the long haul
People from al-Jamiaa know the agony of leaving home, leaving cherished and irreplaceable items behind. They know what it's like to live on the brink of the panic, the desperation brought on by not knowing how to protect or care for your children.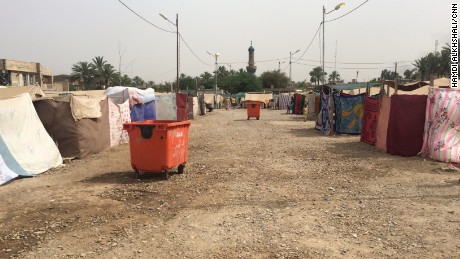 Baghdad neighborhood makes room for Anbar refugees
6 photos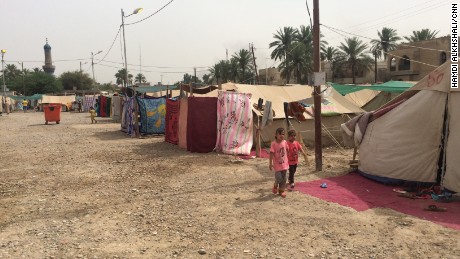 Baghdad neighborhood makes room for Anbar refugees
6 photos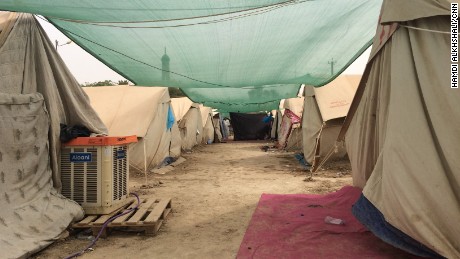 Baghdad neighborhood makes room for Anbar refugees
6 photos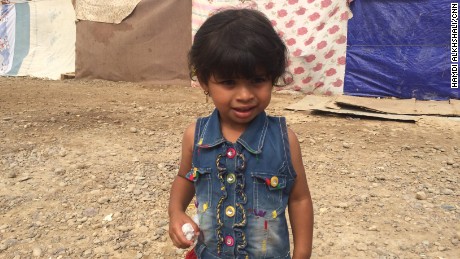 Baghdad neighborhood makes room for Anbar refugees
6 photos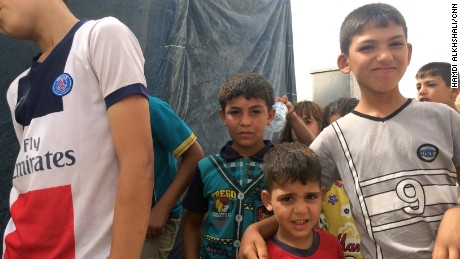 Baghdad neighborhood makes room for Anbar refugees
6 photos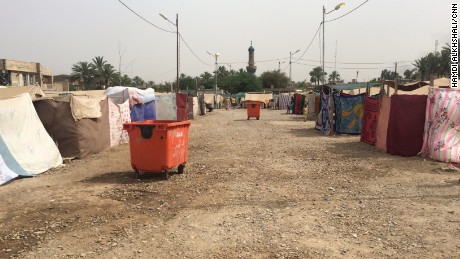 Baghdad neighborhood makes room for Anbar refugees
6 photos
Baghdad neighborhood makes room for Anbar refugees
6 photos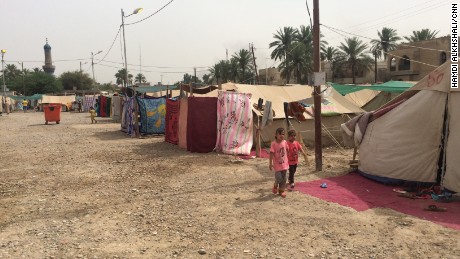 Baghdad neighborhood makes room for Anbar refugees
6 photos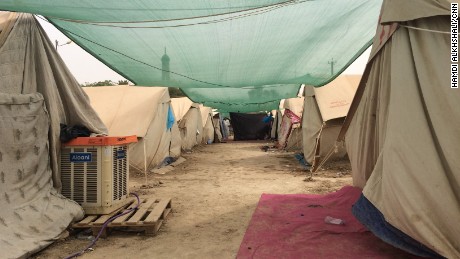 Baghdad neighborhood makes room for Anbar refugees
6 photos
There has been an outpouring of support for the refugees here. Iraq's Ministry of Displacement and Migration provided the tents, Sunni and Shiite organizations alike sent food and some financial assistance. The air-conditioning units in almost every tent, and the bulk of what keeps this camp running and affords its residents as much dignity as possible, are donations from the neighborhood.
There is a tanour to make the traditional Iraqi bread, a large kitchen where people take turns making daily meals for the camp, and an air of permanence brought on by sounds of breaking cement to build solid toilets to replace the temporary portable ones. There is reluctant acceptance that this may not be a fleeting moment.
"I always say I pray to Allah, and I shout this loudly to the camp." Azzawi says. "God willing, your lunch is here, but you will have dinner at home in Ramadi."
But he's still preparing for the long haul, as are the refugees.
Unlike ISIS, al Qaeda 'left us alone'
Abu Sayf doesn't want his identity revealed. He has relatives that are trapped in Ramadi. He says they are being held hostage by ISIS, which wants to use them as human shields. Many residents of Ramadi were able to flee the most recent ISIS onslaught, but in neighborhoods the extremist Islamist group took over in a surprise attack a year ago, people are trapped.
"Whomever wants to leave, they shoot at them or they take the young men and make them swear allegiance," he says.
Each of the 120-plus families here has its own story of terror and despair. Inside one of the tents, Fakriya Ahmed, her face weathered by time and hardship, tells of hers.
She is from Al Qaim, close to Iraq's border with Syria. ISIS took over the area about a year ago.
"They made us wear all black, not just the niqab where your eyes show, but the full black, big, long, bulky abayas." She waves her arms for emphasis. "And gloves and socks. And they made you buy it all from them."
If someone disobeyed she said, they had a choice of 40 lashes or "the bite." "The bite" she says, is literally a bite carried out by a female enforcer to a woman's breast. True or not, it was enough to make her comply with their rules.
Fakhriye says al Qaeda was much kinder than ISIS.
"Al Qaeda, when they took over, they just came in and asked my sons what they did. One was a driver, one was a grocer, they didn't take anyone away, they left us alone," she says.
She remembers the U.S. Marines clearing her home during their operations to run al Qaeda out of the Euphrates River valley.
"They were very polite. They apologized and gave my sons work with the Iraqi security forces." She remembers.
When ISIS arrived, most of her family fled. She refused and stayed with her 9-year-old grandson, Yassin, whom she had raised from the moment he was born.
"They said I either have to give up my grandson or they were going to slaughter me" Fakhriye says. "They wanted to kill him or use him as a hostage to get to his father, because he is with the police."
Luckily, Yassin was out playing with other children. She hid him with neighbors until she was able to organize transport and fled in the middle of the night.
"I was afraid ISIS would find me and kill me" Yassin says.
They went to Ramadi, only to have ISIS take that over as well.
"We were sleeping and they said ISIS arrived, and there was gunfire, an explosion near us. We just grabbed what we could and ran." Fahkriye and her entire family ended up here.
Fakhriye's son, Yassin's father, sits close by. He wants his identity hidden. He's still with the police in Ramadi and tells briefly of how they were outgunned by ISIS.
"We are the local police, we just have AK-47s. There was nothing we could do," he says.
His unit now holds one of the defensive positions west of the city. In a few days he will return to work.
'This is a test for all of us'
Outside, Azzawi is constantly chattering into his walkie-talkie. He is a father figure to many here. The children mimic him, pretending to issue orders to clean up. He's tasked them with making sure the camp stays clean, giving them plastic bags to gather the rubbish every night. He opened his home to a woman who recently gave birth. There's a small pharmacy, a neighborhood doctor on call, and a local gynecologist, all providing their services for free.
Azzawi's own story echoes the tragedies of Iraq, though he still exudes a comforting energy.
He was part of the "neighborhood watch" as security deteriorated. Residents, both Sunni and Shia, guarded the neighborhood. One night in 2006, he was stationed at the mosque along with 10 others when U.S. forces rounded them up. He doesn't know why.
The week after his arrest, two of his brothers, both high-ranking officers with Iraq's security forces, were killed by al Qaeda in separate attacks. But it would be two months before the news reached him, before his wife was allowed to visit him in American detention and deliver the heartbreaking news.
Azzawi spent a year and a half in Camp Bucca, more than 300 miles from home, before he was released, without explanation, without apology.
But he says he is not bitter or angry.
"God tests Muslims on their patience and their ability to endure hardships," he explains.
"This is a test for all of us."
He points to the camp and all that has been done here. "This is the real Islam. Not the Islam that ISIS promotes."
9 dead in blasts at Baghdad hotels
Source