Lucknow encounter: Is ISIS spreading shadow of terror in India?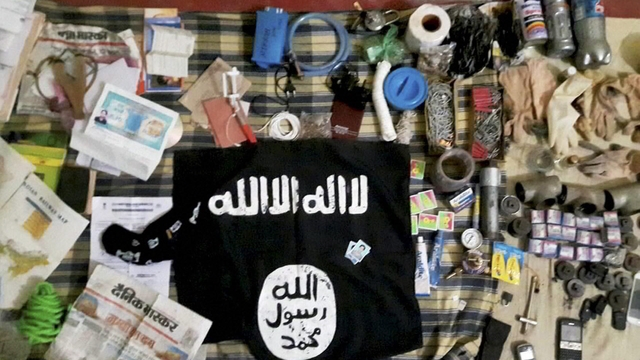 Last December, Home Minister Rajnath Singh had said he was confident that the Islamic State would not be able to spread its roots in India. But investigations into the recent Lucknow encounter have thrown up troubling details.
On Tuesday, a suspected ISIS terrorist Saifullah, was gunned down in an encounter in Lucknow. This is the first such incident in Uttar Pradesh, after reports of ISIS recruits from Maharashtra, Kerala and Hyderabad. It has prompted questions about how strong is the ISIS threat in the country.
In 2015, a USA Today article had reported that preparations for an ISIS attack in India were underway and this attack would provoke "an apocalyptic confrontation with America".
From information on the laptop of two youth picked up after the blast on the Bhopal-Ujjain passenger, the UP anti-terror squad found that ISIS was planning to carry out serial blasts at Kanpur's Dewa Shareef. This was reportedly being planned similar to the suicide bombing that took place last month in Pakistan's Sufi Lal Shahbaz Qalandar shrine.
Saifullah reportedly belonged to the Khorasan module of ISIS. This unit of the ISIS was set up in 2015 and comprises Afghanistan, Pakistan, Turkmenistan and parts of western and northwestern India.
A warning issued by US embassy in Delhi last year stated that places which are frequented by western visitors and pilgrims and festival venues are on ISIS' radar. Uttar Pradesh, with several religious spots and in the middle of Assembly Elections, possibly made for a perfect ISIS target.
It would be interesting to study how ISIS, with its "core" in Syria and Iraq and "official branches" in Algeria, Nigeria, Libya, the Sinai Peninsula, Saudi Arabia, Yemen, Afghanistan, Pakistan and southern Russia is trying to make its presence felt and making inroads in the country.
Indian Mujahideen, a home grown terrorist organisation, formed in 2010, could conduct quite a few attacks because it comprised SIMI members. Though, it was believed that Indian Mujahideen's aspirations were aimed at creating Islamic caliphate across South Asia, Indian Muslims had said it was an attempt to tarnish their image. In the case of ISIS, the handlers and recruits communicate through encrypted messaging applications and are indoctrinated with ISIS propaganda. To be honest irrespective of how far they've got, it's clear that ISIS has its designs on India and we all need to be vigilant.